THE 'ALIAS SMITH & JONES' STORY, PART 4
Superstar Magazine, September 1972
---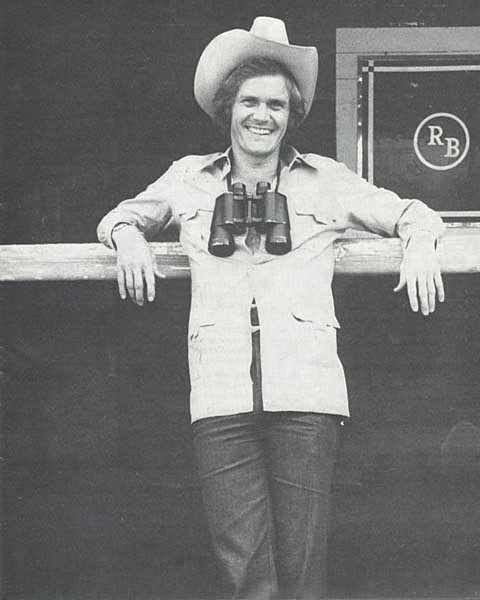 Hannibal Heyes and Kid Curry or Alias Smith and Jones certainly have a lot of fun on the screen, but how do they manage to enjoy themselves when the cameras have actually stopped rolling? Well, as we've said before, Ben Murphy and Pete Duel were both under the same sign, and so it's not too surprising that even when they weren't working together, they had a few things in common.
Ben says, that at weekends, he likes buying the Sunday papers and driving out to the desert for the day with a few friends. Well, whenever Pete Duel could manage it, he was out camping in the great outdoors, as far away from the cameras and film sets as possible. He loved the fresh air and the unspoilt land. Nothing gave him greater pleasure than to sleep in the sleeping bag, and wash in a freshwater stream. This was the other side of Pete that not too many people knew much about.
GIRLS
As he said himself, "In fact, I'd rather be camping out in a tent or under the stars in a remote corner of the Mojave Desert than just about anything I can think of." Pete owned a big jeep, and three wonderful shaggy dogs. He would load up with provisions, a stove and tent and head for some deserted and remote part of Southern California. With his maps and compass he loved exploring old mines and ghost towns of the old West--the old West that he lived in on the television. To him it was all an exciting adventure.
Ben Murphy has a lot of hobbies, but the one he likes talking about most of all it seems, is girls! But more of that later. His five-day week runs like this:
"I get up round a-quarter-to-seven and go for a run and do a few exercises then have a shower. My day ends around 10 p.m. when I'm in bed with a script for the next day's shooting to read. By Friday, I'm completely exhausted as you can imagine. But, I try and keep going. I might go out to a restaurant with a friend. Saturday. I do all the things normal people do, like go out to the supermarket, shopping.
"Then I check all my phone calls and I read all my fan mail. Yes it is true that if a letter takes my fancy, I reply and tell them to come and visit me when they're over this way. It's usually a very attractive photograph that catches my eye, I must admit!"
He enjoys all sports, but his favourites are tennis, horse riding, skiing and swimming. In fact he is someone who likes to know how to do everything. When he felt he had got his tennis and Australian crawl up to scratch, he took up horse riding, not even guessing that a few months later he would be starring in one of the greatest western TV series to hit the TV screen.
"It was a case of learning something in the nick of time." He admits to knowing little or nothing about the sport, but was interested in horses when he was a kid. "I used to envy some of my friends who did go out riding, but somehow I never got round to it until I dated this girl who liked riding. So that's what got me started! I wanted to impress her so I took up riding. By the time the series started, I could ride well enough to keep up with most of them. But three days of steady riding was pretty tough going as you can imagine, and pretty painful too!"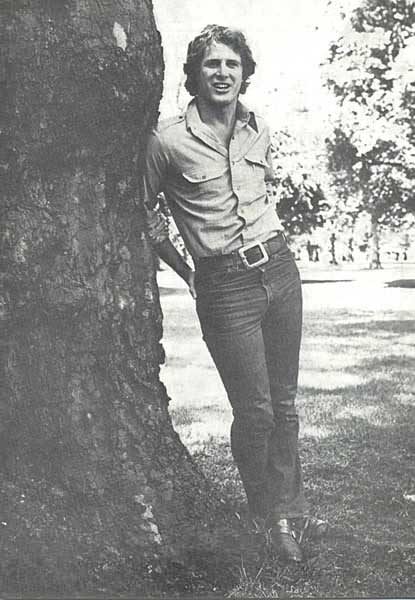 He does possess a TV set, but doesn't have a record player. "I listen to whatever is going on the radio. I like music, but I can't dance. It's something I've never managed to get round to."
Ben, like Pete, has a sense of adventure and exploration. He has travelled throughout the States, Canada and Mexico and has put together a thick volume describing his travels and adventures.
"I've always been intrigued by those isolated roadside diners, and the curious characters who work and live in the middle of nowhere and people who have found their own particular paradise on earth."
Ben also took the opportunity this year to visit this neck of the woods. He was invited over to Norway for personal appearances where the series is a great success.
LONELY IN LONDON
"I loved it there, it was so clean and friendly. And what I remember was the children, all so healthy and full of life. I have a wonderful red and white knitted jacket that the people there gave me as a present. I was very touched by it all. Then of course I came over to London and stayed at the Hilton Hotel. I must say I liked the English beer and even went down to a hamburger joint I'd heard about called Hard Rock. This was quite an experience for me as I haven't eaten a hamburger back in the States for years and years. Hamburgers taste good, but they are so bad for you, but I thought I'd try one. I had a great time in London, but a very busy one meeting everybody. Also my hotel phone never stopped ringing as I happened to mention on a radio show that I was lonely in London.
"Trouble with English girls is that they phone you and are probably so surprised to get through to you that they have nothing to say! Still, I think they were a little shy. I don't usually have that trouble with girls!"
Yes, back home in the States, Ben has lots of girlfriends but no one in particular he will tell you.
"I really would like to get married but I'm really not ready, in fact it's the most intelligent thing I've not done. But who can tell?"
---
Back to Articles List