BEN MURPHY
unknown magazine, 1983 or 1984
---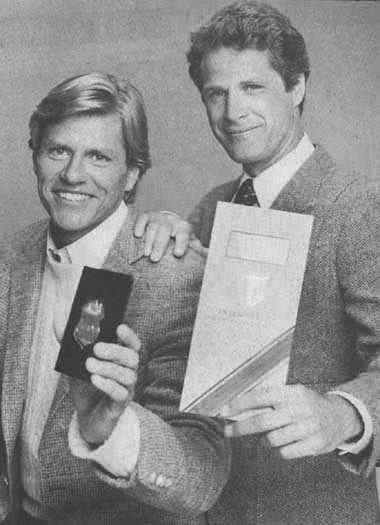 Despite over a decade of television work encompassing four series and recent visibility in The Cradle Will Fall and The Winds of War, Ben is sometimes mistaken for Ryan O'Neal or Paul Newman. This confusion will no doubt end this fall, with Ben's portrayal of Patrick Flaherty, the charming prize-giver in the new ABC series Lottery. Comparing it to the old Millionaire series, Ben says that Lottery has more stories per show, bigger payoffs, and more humor--which he enjoys, along with the camaraderie on the set and between he and his partner Marshall Colt. "Here I'm part of the family," says Ben, contrasting his current situation with being "just a hired gun" under an 11-year contract to Universal.

While he's proud of Alias Smith and Jones ('70-'72), he's less so of Gemini Man, doing [sic] which he became unhappy with his work and attitude toward himself. He quit acting in '74, moved to Malibu, and played tennis professionally for seven years. "It got me into a healthy frame of mind," says Ben, who still plays often and competes in celebrity tournaments. He also devotes a lot of time to reading and developing his abilities in scene study workshops. "Now I'm giving more of my energies to acting but I do have a more balanced life," he reflects.

Ben, who was born in Jonesboro, AR and grew up in the Chicago area, remembers being "bored, withdrawn, and socially inept" as a youth. His first attempt at auditioning as a college freshman so terrified him that he fled the theater, but he tried again a year later and knew he wanted to be an actor by his senior year and moved to L.A. two years later to study. He made his film debut in The Graduate, earning $125 for one line in a frat scene--and had to borrow matching funds from his parents to pay for his actors' union membership fee. Now well compensated, Ben says he'd invest if he were to win a lottery: "I'm a saver by nature. I've always lived below my means."

Ben's work now takes him to exotic locales--he took The Love Boat to Hong Kong (he'll play a senator's aide romancing Pamela Hensley) but surprisingly, he didn't go to Europe to film The Winds of War. He filmed his part in six weeks in L.A. and found the premiere and pre-air hoopla more exciting than the shoot. He's not contracted for a sequel and thinks he'll be too old to do it when and if it is filmed. "I was a little too old the first time," he laughs, suggesting they may be able to use his grandchildren.

Ben, who is divorced from Jeannie Davis, has no children yet, but isn't ruling out another marriage. "I have no immediate prospects but I have no fears. I'm getting close but I'm not quite ready. I still enjoy the single life," he says. Ben doesn't often date actresses, as he prefers mellow, fun-loving people to high-strung, driven types. He may work in Hollywood, but he comes home to the quiet and serenity of the beach. He's had his share of ups and downs in his life and career, but Ben has found a satisfying equilibrium today.

---
Back to Articles List