HERE'S A SERIES TO BE FORGOTTEN
by Lawrence Laurent
Detroit Free Press Weekly TV Magazine, March 21, 1971
---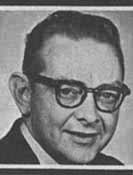 Cover Story
Have pity, please, for a man who suffers two afflictions. The first is that he is required to watch a lot of television and the second affliction is an excellent memory.
As a result of such afflictions I spend a lot of restless, sleepless nights worrying over the fate of heroes who were never able to resolve their problems. For example, does Ben Gazzara still have to run for his life? Or did the doctors come up with a cure for his fatal illness? Television never told us the answer.
And what about the hero of "Run, Buddy, Run." Is he still fleeing the forces of the underworld? That fellow who saw flying saucers and fought "The Invaders" for two seasons, did he ever succeed in saving our planet? Or the fine cavalry officer, who was "Branded" as a coward? Did he ever clear his name?
And somewhere in the doldrums of syndicated re-runs a family is "Lost in Space." Somewhere, on an unidentified planet of our galaxy, there is a group that never did escape "Land of the Giants."
The man who suffers from an excellent memory and concern for television's heroes has a new set of worries this year. It concerns the heroes of "Alias Smith and Jones," a mid-season arrival that is expected to last for 17 episodes and will probably never be heard from again. A whole new set of worries.
Or, perhaps the best thing about "Alias Smith and Jones" is that it will provide fast, fast relief from any future concern. This just may be the one TV series that isn't worth worry.
It does have, to its credit, two attractive leading men in Peter Duel and Ben Murphy. Occasionally one finds the flashes of insight and comedy that made the "Maverick" series a true delight. Mostly, however, this one suffers from the deadly sin of being a poor imitation of that motion picture called "Butch Cassidy and the Sundance Kid."
The two heroes have found that advancing technology has ruined the career of a badman in the West. Safes are being made impregnable, communication between lawmen is becoming more reliable and, worse, the owners of money and property have become less tolerant of being robbed, swindled and shot.
The heroes have decided to go straight. But, first, they must behave for one full year before they can qualify for a pardon from the governor. Going straight isn't very easy, what with temptation lurking behind the door of every bank. But they will try, at least for 17 one hour episodes.
Each week, they wind up losers. They get robbed, cheated and occasionally beaten but it is all taken with a grin and just a few flashes of the old swiftness with the six shooter.
Worse punishment, however, was handed out by the ABC-TV network, which placed the show opposite NBC's "Flip Wilson" and CBS' "Family Affair." That guaranteed, faster than a posse's rope, a quick death for "Alias Smith and Jones."