FACE TO FACE WITH BEN MURPHY

by Janey Milstead in Hollywood

FAB 208, June 11, 1977

---

What could be more fun than sitting around sipping coffee with honey, gazing out over the blue Pacific, and chatting with Ben Murphy?
To bring you up to date Ben is still living in his two-story condominium at Malibu beach (the two bedrooms are upstairs), which he is working on and filling with lovely old wood antiques, but he's beginning to think of selling now, and finding a house in the same area. I found the flat filled with plants ("they hide the lumber"), and Ben more mellow and relaxed than I have ever seen him.
Ben is an actor and loves his craft, of course, but not working agrees with him. Under contract as a series lead, Ben has an income between series, and now that Gemini Man has finished filming, he's spending his days doing his very favorite things: running, playing tennis and going to drama class (something he digs).
Rather than the usual chit-chat, I thought I'd ask Ben some questions and see what he came up with. I hope you enjoy the answers as much as we did the "interview".
Janey--What do you think of Women's Liberation?
Ben--"Anyone's freedom is my own. I'm all for it. Besides, I wouldn't mind finding some nice female to support me for a while!"
J--When are you at your happiest?
Ben--"When I'm running. There's such a feeling of acceleration." (Ben runs five to ten miles at a time a nearby Pepperdine College which has a beautiful track overlooking the ocean.) "I run for conditioning, but also for the meditative effect."
J--What makes you mad?
Ben--"Small little things. Interference with my rights by bureaucracies."
J--Are you the slightest bit interested in politics?
Ben--"Let them set the rules and I'll play the game. I consider myself a man with a long life to live, but only a few waking hours. I don't waste my time. I'm not a group oriented person anyway."
J--How do you feel about the single life?
Ben--"It's lonely at times, but it's rewarding, too. Many more people pass through your life. You have to do what's right for you. I have no choice personally. I'm trying to develop myself, and it's the way I'm meant to live right now."
J--What do you think of TV in general?
Ben--"I don't watch it much except for sports. I think it's great as long as it pays my bills! I hope to take the whole year off and train to see what level I can reach."
J--Training for anything in particular?
Ben--"I'm going to be in the Senior Olympics this year. I'll be running the 100 and 200 yard dashes although I train long distance."
J--What would you be if you weren't an actor?
Ben--"In sports, probably, or maybe some kind of business. Whatever work I do, I don't like to spend much time doing it!"
J--Do you have any fears?
Ben--"Well, I've found out I have certain phobias. I discovered during Smith and Jones that I don't like to be tied up. They'd usually have to fake it, or untie me quick; In Gemini Man I did a scene underwater wearing a wet suit and helmet and mask--I didn't mind the underwater, but all that stuff I was wearing! We did a race track segment, too, and I got a closed in feeling from the helmet and googles. I wear a helmet every time I get in my car, although I've never had an accident, but it doesn't cover my nose and mouth."
J--Are you interested in outer space or UFO's or whatever?
Ben--"Not really, but I certainly don't think we're the only life in the universe. Space travel would be neat, but it's not for me until they build ships where I could sit down in the 'smallest room' and read for an hour like I do at home!"
J--How do you see yourself in 20 years?
Ben--(grin) "Lean, mean and keen."
Yeah, he probably will be.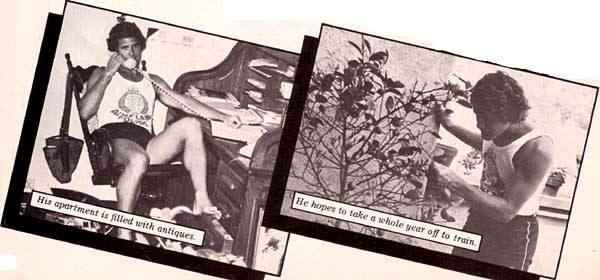 ---
Back to Articles List