BEN MURPHY'S FANS SWITCH TO ROGER DAVIS
Lecturas, 30.3.73

---

Roger 'signed up' for "Alias Smith and Jones as a substitute for the ill-fated Pete Duel
As everyone knows, the popular TV series 'Alias Smith and Jones' was interrupted for a short while after the tragic death of the Ben Murphy's first acting partner, the ill-fated Peter Duel. The young actor died in rather unclear circumstances in Hollywood. But, after a short time, the production company were 'obliged' to make an urgent search for a substitute for Peter Duel. The filming could not be stopped part way through, despite this tragic accident. Everything had been planned and contracts made for a longer time-frame and shooting the series had to continue.
The substitute, as we already know, is Roger Davis, a typical American actor with the sort of physique associated with Robert Wagner. A good-looking Hollywood guy with acting acting talents very similar to hundreds of other actors like him. We are of course referring to actors in the United States here, because we are still wanting the Hollywood-style, delicate approach in Spain, especially where television series are concerned.
It was a good choice, because Ben Murphy and Roger Davis have become a partnership and have paid their respective roles with the greatest of precision. In any case, despite the efficiency of the production team, the series had to be interrupted, for the process of exporting the episodes was much slower than the rate of filming.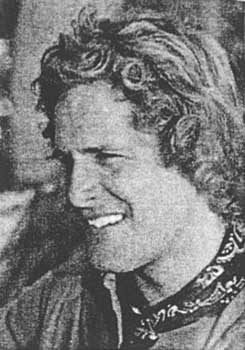 Ben Murphy and Roger Davis have been good friends, ever since they started to work together. They are two prototypes of the American film industry, whom we could easily run into with colleagues much more famous than them. Despite all the forecasts and calculation, it seems that Ben Murphy's fans are deserting him for Roger Davis. The American fifteen-year-olds tend to favour the latter, according to the results of a more or less informal survey, conducted recently by the public relations department of the TV channel. Roger Davis receives more cards each day than Ben Murphy, in spite of which, they continue to be the best of friends.
Caption under Roger's photo: Roger Davis, the substitute for Pete Duel, who committed suicide a little over a year ago.
Caption under Ben's photo: Ben Murphy. His fans think that he looks rather like the actor Paul Newman.
Caption under photo of both: Despite being in competition for the number of fans, in real life Roger Davis and Ben Murphy are the best of friends, happy to be working together.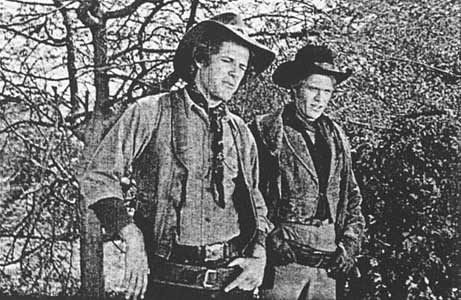 ---
Back to Ben Articles List or Roger Articles List