THE FAN LETTERS I ANSWER FIRST!

As told to Marco Amedeo

Movieland and TV Time, June 1971

---

If you're an adventurer, write and tell Ben Murphy about your experiences...he is too!

"I answer a fan who is earning freedom first," Ben admits. "It's my goal because I've always wanted to choose what I prefer. As soon as I sense the same drive in a person who writes to me, I'm aware of how much we have in common.
"If you call freedom an automatic privilege, I can't agree. That's childish. It has to be won again, over and over. If you aim to make the most of your life, you have to be realistic.
Photo Caption: Ben's worked hard preparing for his TV role in "Alias Smith and Jones" with Peter Duel.
"Tell me you're not the type to contentedly stay put and I'll understand quickly. A small country town--Jonesboro, Arkansas--is the place I remember first. But I want the thrills of exciting adventures beyond the horizon. Growing up in Hinsdale, a suburb of Chicago, brought the excitement of a big city closer. When I was 13, my father, a produce broker hit by the recession then, decided to open a women's clothing store with my mother. She'd been a bookkeeper and she has a particularly good head for business. They still live and operate their store there. I'm Catholic, so I went to the local Catholic high school. With only guys there, I was doubly fascinated by the mystery girls were [sic]. It was an advantage to be brought up to respect responsibilities. I can't kid myself.
"Sure, my parents were puzzled by my desire to be me, whatever that turned out to be. There were times at home when my conversation with them was only about the essentials of everyday living. I felt it was better to keep my dreams to myself when they'd be too surprising. I recognized power--parent power then--when I saw it! A baby brother was born when I was 15 and the attention he naturally received allowed me to quietly search for my answers.
"The younger you can earn money, the sooner you can be independent. I became a truck driver in Chicago in my mid-teens. My folks acknowledged that I was very practical. I drove at night and in the summer, so my jobs could help pay for my education.
"Should you go to college, as a teenager or much later as an adult? Ask me and I say, 'Yes!' I love the challenge that change brings, so I never stayed at the same one. After putting myself through my freshman year at Laras College, a Catholic school for men in Dubuque, Iowa, New Orleans beckoned to me and I was a sophomore at Loyola University there. I paid for almost all my expenses by working while there as a secretary to a priest. I was eager to see some of the wonders of Mexico, so I picked the University of the Americas in Mexico City for my junior year. As a foreign student, I couldn't get a work permit. I found someone to whom I could teach English for two months. That, added to a summer of truck driving, meant I paid nearly all my expenses there. I worked in a store as a shoe salesman for another stretch, just for variety. I decided to be a senior at the University of Illinois, where I worked after classes in the library--back in the stacks--and delivered the campus paper five days a week. One morning I read that volunteers were needed to act in a campus production of 'Julius Caesar.' Applying to play Shakespeare seemed a wild idea. That was my first chapter as an actor. I wasn't sensational. The next one came in Mexico after I graduated.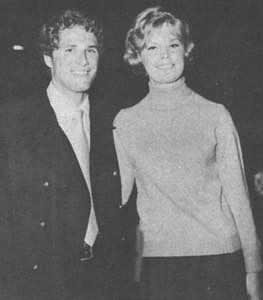 "I tried writing, then painting, during those four years at four colleges. Neither was my fate. Confess you're uncertain about yours and I'll reply, 'Don't worry! Be flexible.' Actually, I majored in Political Science. When I got my diploma at Illinois, the following step was a fellowship grant for graduate study in international relations at the same Mexican university I enjoyed for my junior year.
Photo Caption: Marriage isn't in Ben's immediate plans...but he digs pretty girls like Rita Anderson!
"If you think moving around so much makes it difficult to find friends, I'll tell you to open your mind and heart. What about roots? Bring this up and I'll wonder why anyone wants to remain in a rut. I haven't forgotten the friends, the places, the marvelous hours anywhere I've lived. Still I've always suspected there's more to see and tackle and learn from somewhere else.
"My parents paid half my college expenses, altogether. I appreciated that. But because I went after jobs whenever I could, I didn't have to argue with them when I chose a different college, each year.
"Does driving a car relax you? It does me. Can you take off enthusiastically alone? I had a nine-year-old, beat-up Ford when I drove from Chicago to Mexico City to be a graduate student there. I made those 2,200 miles in sixty hours that autumn I was 22. I reached San Antonio in 26 hours. And no, I wasn't speeding! I haven't had a ticket for speeding since I was 17. I just try to be efficient, don't waste time. Of course, it was scary on a Mexican road at midnight when I was engulfed in a black fog and there were no guidelines. But then it was a big moment when I suddenly drove out of the fog and a silvery moon shone down on a beautiful valley below.
"If you're hanging onto a fear of adventuring, I'll assure you that the unforeseen doesn't have to be disastrous. I'm not mechanical. I was stranded when that old car broke down a few times, but someone inevitably came long and fixed it.
"You don't have to stick to an experiment. There was more research than I liked in that graduate school. The less hectic pace of Mexican life appealed to me, though, and I liked the plays I got into at the university. But then that was so much fun I couldn't get my reports in on time. A friend and I figured out an unbeatable system to win on the horse races since that 'no jobs for foreigners' rule prevailed. I had to cut classes for that. By the end of two of the three quarters for that year, I was so far behind with my reports I was in a precarious spot. Then I lost all my money at the races! Our system was super, but we made the serious mistake of not following it. Tell me there are times when the only thing to do is split and I'll recall I did as my topper to that chapter.
"However, that acting in university shows was such a kick I decided to try to succeed in show business. At 16, I wrote to a photo service for pictures of James Dean. He died when I was 13 and I had only then realized the power of his personality. I could identify with him without wanting to imitate him when I got the notion I might become a real actor, myself.
"Do you depend upon good or bad luck? I don't. I believe in preparing for chances. I enrolled for the two year course in Theatre Arts given then at the Pasadena Playhouse. While there the most intriguing job I had on the side was as an extra in a local repertory theatre where Monte Markham and Henry Darrow had the leads.
"I was 25 when I graduated at Pasadena and tackled Hollywood. I've not been on the move since. At 29, I hope to reach a solid position in the acting profession. I've been told I look like Paul Newman ever since I was 16. Finally, I was introduced to him on a tennis court and I was so shy I couldn't open my mouth.
"Pete Duel is a great guy to work with. We're reported at 7 A.M.and sometimes worked straight through to 1 A.M. I've never been happier, thanks to the opportunity to act regularly.
"My home today is a compact, functional apartment that is, conveniently, a five minute drive from Universal. My father's a good carpenter and a good cook. I'm not. I built my bookcases, a simple project, and slapped paint on them, but I'd rather earn the money to pick out what I'd prefer when I progress to a house. I can't cook. Anyway, there's literally nothing to be cooked in my apartment because I try to eat mostly raw food. Since Thanksgiving, I've managed to at least half the time. I'll eat meat three or four times a week at a restaurant, but I shop at health food stores and you'll be handed fruit juice or a bunch of figs at my place.
"I have a health goal, you'll gather. Mine's splendid, but I want to live to be 120. By then maybe they'll have found out how I can live forever. That's another desire of mine. I'm no pessimist. I think life can get better and better if we try to fulfill our potentialities.
"Don't suppose I have a gym routine. I don't irk myself like that. I rely on push-ups whenever I'm in the mood and a portable chinning bar a doorway holds. I play tennis, swim, and snow ski in the winter, but impulsively rather than doggedly.
"Lay elaborate plans on me and I'll hedge. I want simplicity and in my life. I don't want to be tied down by anything that can become monotonous. Taking care of possessions could be, so I want few material things.
"I have ideals, but I don't yell. I'm impressed by those who do yell in protest when that's effective. Personally, I've found that avoiding conflict gets one further with less tension. If I don't like something, I make a circle around it if I can. I feel that when I become more successful people will listen. If I start spouting before I earn the right to be authoritative, I may get shot down before I get there.
"Quiz me on love and I'm all for it. On marriage and this is the truth: it isn't my time for marriage. Getting started in show business takes so much effort. I don't suffer from loneliness, yet I find great pleasure in sharing many things. Happy marriages seem appallingly rare. I think emotional misery comes if two people are weak and cling to each other because they can't stand on their own."
Obviously, when you talk to him, he is a young man with great powers of observation. He is extremely friendly--but you sense an underlying strength. He definitely is the kind of man girls go for.
"I don't want to 'own' a wife. Mine will have become a free human being before we care wholeheartedly. She'll have her freedom from hang-ups because she's dared to develop as she could. I don't want a girl I can dominate. I want an equal to love. Eventually a wife and children who'll find life as fantastic as I do!"
Write to Ben Murphy in care of ABC-TV, 4151 Prospect Avenue, Los Angeles, California 90027. THE END
---
Back to Articles List