HALF AN HOUR WITH BEN MURPHY

By Amanda Honeycoats

Diana, No. 496, April 19, 1972

---


Who would you like to chat with for half an hour! This week--Amanda Honeycoats of London chats to that well-known actor, Ben Murphy.
Where and when were you born?
In Jonesborough, Arkansas, on March 6, 1942.
Who else in the family?
When I arrived, just my folks--Ben senior and Nadine Patricia. Fifteen years after me, my brother Tim was born.
About Jonesborough...
A quiet, rural town of around 15,000 inhabitants. I admit it was too quiet for me. I wanted to spread my wings. It helped when, during my schooldays, my parents moved home to Clarendon Hills, near the big city of Chicago.
FAMILY BOND!
What does your father do?
He runs a women's clothing store and my mother helps.
How often do you see your parents?
On average, about once a year.
Don't you get on with them?
I think the world of them and I guess the feeling is returned. The bond is so strong it doesn't depend on frequent visiting. If they needed help, I'd be with them in a flash. I know they'd do the same for me.
ATTENDED EIGHT UNIVERSITIES
What age did you leave home?
In a sense, at 18. This was to go to university. I carried on at various universities till I was 26. But I'd usually go home during vacations.
How many universities?
Eight in all.
EIGHT! Why so many?
I guess I was just searching for the best way of expressing myself. I ended up at the American University in Mexico. I was there two years.
Get any degrees?
One in political science at Illinois University. Also one in drama at the Pasadena Playhouse in Los Angeles.
CRASH HELMET!
Your earliest memory?
I was about two or three when I rode my tricycle into one ridden by a little girl. I was scratched and bruised a bit, but I remember it was only her dignity that was hurt.
Nearest you've been to death?
Narrowly missing car crashes. For the last few years I've worn not only seat belts but a crash helmet. That's even if I drive just to the nearest shops.
What is your car?
A lovely 1966 Chevrolet. My parents bought it for me new--saying that if I kept driving old bangers I'd kill myself. It's done 100,000 miles and still goes like a bird.
JED CURRY!
How did you get into "Alias Smith And Jones"?
I'd done quite a bit as an actor and was asked to audition. I had read from a script for the "pilot" episode. There were quite a few competitors, but luckily I got by.
The series is pre-filmed. Do you watch yourself in it?
It's about the only TV I do watch. To see myself as Jed 'Kid' Curry is like watching another person. My aim is self-criticism. I used to go UGGGH at first. I think I've improved a bit since, but I still make a note of ways in which I go wrong.
Do you carry a lucky charm and/or read your horoscope?
Neither. I'm not in the least superstitious.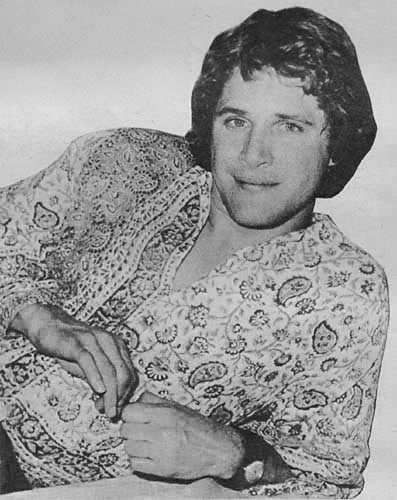 GUN LAW!
Which politician do you most admire?
None. I've become utterly disenchanted with politics. I don't even vote.
If you were President of America, which law you first seek to pass?
One which stopped the carrying of guns.
Do YOU carry a gun?
No. But I have one in my house for self-protection.
HOWARD HUGHES!
How many books do you own?
Several hundred. But they are with my parents, since I've little room in my small flat.
Which book have you most enjoyed recently?
"The Godfather."
Which world personality interests you most?
Howard Hughes, the fabulously rich recluse. From what little we know of him, he seems a fascinating, unique character.
What do you think of space travel?
America should carry on. To explore is a deep human instinct. Without it, the old world would never had discovered America.
Craziest fan experience?
One morning I found my car decked with JUST MARRIED signs, ribbons, horseshoes and so on. There was a note from a girl saying she'd be coming back to marry me. She never did. But did the neighbours talk!
---
Back to Articles List