GOOD-LOOKING LOOK ALIKES--BUTCH CASSIDY AND KID CURRY MEET HEAD-ON
TV Star Screen, September 1971

---



At 45, Paul Newman is still handsome enough to take a gal's breath away. However, the telltale signs of age are there--a few wrinkles that make-up can't quite hide, and a few silver threads among the gold. But female fans needn't despair, because there's a new star rising who could easily pass for Paul's double--if he weren't a good twenty years younger, that is!
In case you haven't already noticed Paul Newman's look-alike, his name is Ben Murphy, who stars with Peter Duel on ABC-TV's Alias Smith and Jones. Ben plays an outlaw named Kid Curry, who's trying to go straight and having a rough time of it.
Like "Butch Cassidy," Ben Murphy is just under six feet, with wavy blond hair and a pair of blue eyes like the ones that Paul Newman made famous. Both have the classic features and the physique to rival the sexiest of Greek gods. In addition, Ben possesses that special aura of virility that makes a girl's heart beat faster.
Ben Murphy was born on March 6th in Jonesboro, Arkansas, and he uses his real name. In his short life, Ben has attended no less than seven institutions of higher learning!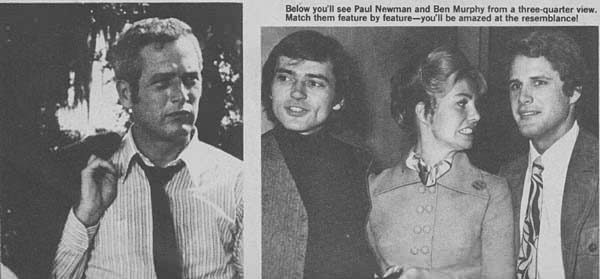 After attending Loras College in Iowa, Loyola University in Louisana, and the University of the Americas in Mexico City, he pooled his various credits and earned a B.A. degree from the University of Illinois. This degree was in the field of international relations, but Ben also did graduate work in theater arts and physical education at two colleges in California. But all this didn't stop him from choosing still another institution of higher learning--the Pasadena Playhouse, where he took a two-year course and earned a second B.A. in theater arts!
Ben had little trouble breaking into the acting field. He had a role in the smash-hit film, The Graduate, and a featured role on The Name of the Game. He also made guest appearances on such TV series as The Virginian. Now he hopes Alias Smith and Jones will survive the ratings game.
It looks as though his career may be as successful as his look-alike, Paul Newman's. There is one big difference between Paul and Ben, though--Ben is still single! Isn't that the best news you've heard in years?