BACHELOR-BOY BEN MURPHY IN LOVE

by Laura Ott

TV Star Parade, October 1972

---

Prominently displayed in Ben Murphy's San Fernando Valley bachelor apartment is a mammoth trophy which reads "To Ben Murphy. The World's Greatest Lover." He doesn't explain just where it came from, but one can guess by looking at him and talking with him that it is well earned. Tall, muscularly slim, his eyes twinkling with the thought of some new prank to pull on the set of "Alias Smith And Jones," he just laughs when the suggestion is made that he looks very much like Paul Newman.
"I know it's supposed to be a drawback to closely resemble an established star, but I haven't found it so. I only hope I can find a girl as pretty as Joanne Woodward to marry."
Photo Caption: Ben and Betty enjoy each other's company so much they spend days together without seeing anyone else.
So Ben Murphy really is thinking of marriage! In all his previous interviews, Ben has laughed when the subject of marriage was brought up. One of the hippest of Hollywood's swinging bachelors, Ben has always been ready to meet a pretty girl, and he never cared how the introductions came about. He used to peruse all his fan letters; and if there was one with a snapshot of a great-looking girl, he would take down the address, and either call her or write her, inviting her to Hollywood to see him. He is a fun-loving guy, very relaxing to be with, even somewhat kooky. He drives around Hollywood in his five-year old Chevy, oggling the beautiful girls (girls in Hollywood all seem to be gorgeous), grinning that knock-out toothy grin and yelling, "Hi!" at all who respond to his smile. Passers-by stare at him in disbelief, but none of that bothers Ben. He lives his life for the small pleasures that each day provide.
On the set of "Smith And Jones," Ben appears the intrepid clown. He is always willing to try things for a laugh, even though he may be the butt of the joke. Fun seems to be what he wants most out of life.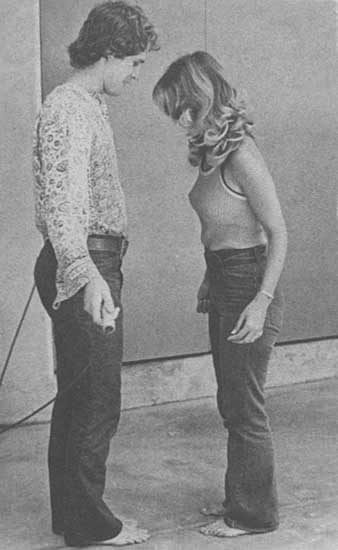 But his personality is much more complex than what he shows the world. In his day-to-day capers and his girl-chasing. Ben Murphy is very serious about what he is doing with his life, where he is going, and what he is learning. Expressing a desire to ultimately produce films having lasting social value, he is deeply involved with his inner development as a thinking individual in the world of conformity, and he is realizing the importance of learning to share life with a woman who loves and understands him. He thought he had found her once, a few years ago, and he was on top of the world. Then, the girl went out of his life, he lost his job on "Name Of The Game," and he felt as though his world was about to end. Jumping into his car, he took off on a 3,000-mile skiing trip all alone, and during that time, he began to explore his inner self. He even wrote a screenplay during the evenings, after he was physically exhausted from skiing all day--a screenplay about self-destruction.
Photo Caption: A love for athletics helps--if you want to capture Ben's heart!
"But I never finished it," he says now, grinning. While Ben has been happy being by himself and while he enjoys periods of solitude, at the same time, he finds that solitude frightening. When asked what he planned to do when "Smith And Jones" finished, shooting for the summer, he said, "Maybe I'll go to the desert for a month, seclude myself. Do some running. Play the guitar. Read. Write. But it's scary, though, to be alone for a month."
Now 30 Ben must be feeling that he has to settle down and start building a life with someone. He has reached the age of panic, when men and women who are unmarried feel they are about to lose their chances of finding a partner, when they begin to settle into a groove which suits them, and when they realize that any flexibility they may have in getting along with a mate is rapidly diminishing. So, they do the natural thing--they find a reasonably satisfactory pattern and get married, before it is too late!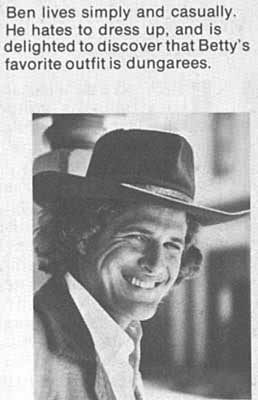 This has not happened to Ben, yet, but one infers that he must be on the brink of such feelings of panic. He must have often thought lately, "If I could only find the right woman." A woman who would share his humorous views on life and his casual, blue-jean style of living.
And just such a woman has finally arrived on his scene. Her name is Betty Palivoda, and she might best be described as a blonde, blue-eyed fun-loving NUT! She and Ben spend hours thinking up games to play with each other. They walk, barefoot through the streets around his apartment building. They swim in his pool "fully clothed or not," in whatever state strikes their fancies of the moment. They nourish themselves with Ben's diet of raw organic fruits and vegetables, wheat germ oil and apple juice. And they laugh--a lot. They are spending happy days together, just grooving on each other's presence. And Ben is finding that he enjoys being by himself less and less frequently.
Looking at Ben now, one notices that there is an extra sparkle to his spirits. All the signs give evidence of a man in love!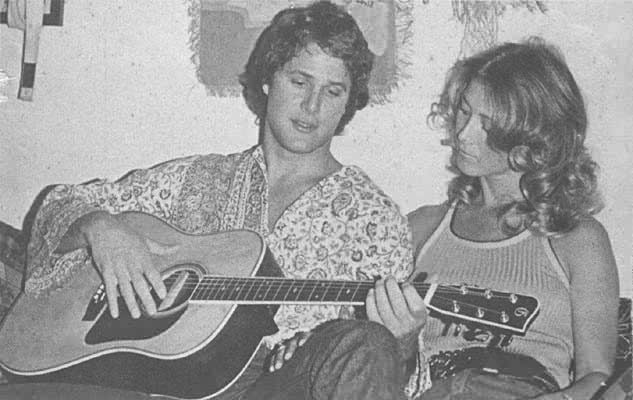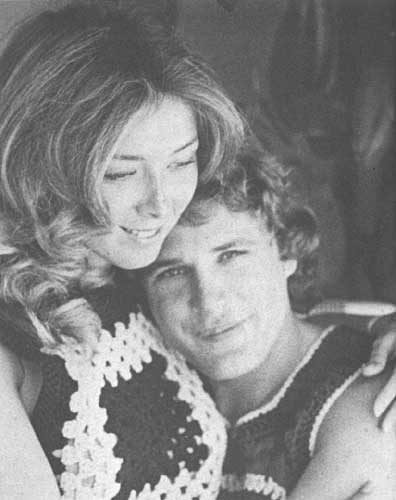 ---
Back to Articles List