BEN MURPHY and BURT REYNOLDS in London!

Movieland and TV Time, February 1973

---

Ever wonder how those handsome Hollywood leading men act when they're away from home?


Ben Murphy was thrilled when he took his first trip to England. He wanted to see everything, do everything, be everywhere all at once! That was usually during the daytime...
At night he would be off to a party of to meet one of the lovely ladies he'd met attending theatre, queued up at bus stops, or friends of a friend in show business.
"Alias Smith & Jones" is one of the best liked shows on TV today and Ben is marvelously popular wherever he goes. In fact, Ben Murphy and originally Pete Duel were so well liked that even though Pete died, the show stayed on with Roger Davis as his replacement. It was a tough year for Ben and that's why he was doubly interested in a vacation in Europe. He also was abroad to discuss the show and other future plans in several countries.
A small town, then city boy, traveling in Europe for Ben had always been a dream. It was every bit as great as he had expected. Ben was born in Jonesboro, Arkansas but he actually grew up in Hinsdale, a Chicago suburb. He went to five or six colleges including one in Mexico.
He'd transferred to the University of Illinois where he received his degree in political science. He got another degree after a year of graduate study at Loyola University and a two year course in Theatre Arts at the University of the Americas in Mexico City and more work at the Pasadena Playhouse in California. Later he went on to do more graduate work at the University of Southern California and took physical education at San Fernando Valley State College. He started "Name of the Game" while at San Fernando. He did a couple of movies including "The Graduate" and appeared on "The Virginian" "It Takes a Thief" "The Outsider" and "Mod Squad". All that experience helped him.
While he is rugged and athletic looking, it is easy to see that Ben has his scholarly side too. Not only had he studied a lot, by the time he went to Europe he'd been all over the United States. And he's collected loads of notes on his travels because someday he hopes to write a book.
All of which may give you a clear idea of why Ben is or hasn't been going steady, or married. He really hasn't had much time to give to the woman he'll love. So he's a dater... He likes a lot of girls and get around to calling them several times, but so far he's stayed clear of taking those marriage vows.
He enjoys being a bachelor so far...when he no longer does, he'll probably stop setting out each day for a new adventure...hoping to meet a new girl. In fact, he'll probably have all that out of his system by the time he settles on one lovely lady.
His bachelor apartment near Universal Studios is decorated in what he cheerfully calls "cheap motel plastic". He's too busy doing all the things he loves doing to worry much about his apartment. He likes to swim, ski, ride horses, and play tennis.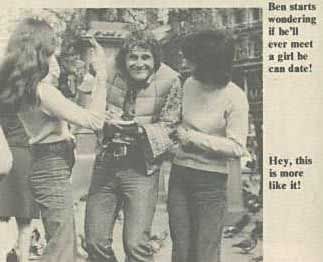 Of course he also lives to read and when Ben's working on the sets and sitting around waiting for the next scene, he's usually got a book in front of him. So he's not always out dating every night. Doing the series is a lot of work and keeps him pretty busy.
This five foot eleven inch tall star is blond with blue eyes and weights about 170 pounds. He was born on March 6...for those of you who want to look up his horoscope. He goes back to visit his parents in Hinsdale, where they still have a clothing store.
Ben likes his new partner, Roger Davis, very much and they have gotten to know each other better by now. At first it was difficult because the writers had to get Roger going and give him scenes that would help establish him for the audience. Roger was working so hard just jumping into the role that they only met in front of the cameras. But now they are used to each other and the tremendous pressure of losing Pete and changing one of the stars in midstream is over. The show went on...They all had to keep working and not look back.
Now Ben is back home and thinking about the wonderful times he had in England and the other countries. It was fun being recognized and asked for autographs wherever he went. It was also more fun to be able to get lost in a strange city and wander around looking at all the famous sights in the daytime. Nighttimes he didn't lack any dates because he's one very attractive fellow and no matter what country you are in...there's always room for one more exciting bachelor--right girls?
---
Back to Articles List