HE LOOKS JUST LIKE...
by Percy Shain, Globe Staff

Boston Globe TV Week, March 7, 1971

---

At this stage of his career, they are saying more about who Ben Murphy looks like than how deep his talents go.
All his life this blond, blue-eyed Adonis has been confronted with the fact that he is an amazing "look-alike" for Paul Newman. Others have said he resembles Ryan O'Neal a great deal.
His executive producer, Roy Huggins, said to me, "I think he looks more like Marion Brando than anyone else. In certain scenes the similarity is uncanny."
But now that Ben is installed as the co-star of "Alias Smith and Jones," the update "Maverick" western which began a midyear run on ABC (Thursdays at 7:30 on Ch. 7), and has several credits behind him, the young man hopes to change all that with the quality of his performances as the trigger-quick ex-outlaw trying to "go straight."
The first thing he is glad about is that he is with--rather than against--Pete Duel, his series co-star.
"We always seemed to be competing for the same roles," Ben ruminated, "and he took so many away from me that I was beginning to get discouraged. It's a relief to be on the same side of the fence with this guy. And we've been working together very well on the set, because we're very much alike.
We're both Pisces, you know, since our birthdays are two weeks apart. We go for the same kind of grub. We're both health food fans. We start the morning with the same specially blended organic protein drink. I eat very little meat. I prefer to drink a lot of juices. They give me energy.
"A lot of people have compared our show with 'Butch Cassidy and the Sundance Kid.' But if the basic mood of light comedy is the same, there are fundamental differences in concept and plot that become immediately apparent to anyone who watches us.
"Besides, I have the Robert Redford role, if you want to compare, not the Paul Newman part.
"It's funny, but I've been told so many times that I look like Newman that it got to be an obsession. I was struck speechless when I finally did run into him. It was at a tennis court, where I was borrowing Susan Strasberg's racquet. The conversation wasn't very memorable. Something like, 'Hi, kid.' That's all."
Murphy became an actor in a roundabout, negative way.
"One day I took an inventory of my talents," he explained, "and realized I didn't have much of any. I couldn't sing and I couldn't paint, so I thought I'd try acting, because I couldn't do anything else. Besides, I thought it might be a good way to express myself. My parents were always asking me, 'What are you going to be, Ben?'"
It was a rather startling decision since no one in his family had ever remotely considered such a vocation. "My people came out of the hills of Arkansas," he reflected. "They couldn't talk--much less act."
His was a footloose, uncertain growing-up period. He went to eight colleges before graduating from the University of Illinois with a degree of political science.
"I was mostly bumming around," he said. "I felt stagnated. I couldn't get interested. I quit graduate schools twice. I got a fellowship to study international relations at the University of the Americas in Mexico City. But I got tired of this sort of thing. I needed an outlet for my energies.
"Then I decided to become an actor and really started to work hard at it. Although I had been something of a militant on campus and spouted a lot, I shut all that off to concentrate on shaping my talents.
"I went to California and got a job with the Pasadena Playhouse. For two years I did stage plays--all kinds--Moliere, Sartre, the works. It was the most work I had ever done in my life, but I felt I had found myself, that finally this was the real me.
"I got into a production of 'Life with Father,' playing the eldest son. As a result of that I picked up an agent and started doing the rounds.
"My first picture, believe it or not, was 'The Graduate,' just as it was Dustin Hoffman's first. But you couldn't even see me. My face was lathered with shaving cream. I had just one line. I was the student in a college fraternity gathering who turned around and hollered, 'Save a piece for me,' referring to a cake they had.
"It wasn't much, but it got me into 'Yours, Mine and Ours,' with Henry Fonda and Lucille Ball, in which I played the hippie boy friend. It all happened rather fast. I got a diploma in June, did some stock in Idaho in July, started 'Yours, Mine and Ours' in August, took some graduate school classes at USC in September, and signed a Universal contract in November, all in 1967.
"Of course, that was just the beginning. There were long periods I didn't work. I kept going by driving and unloading trucks. I started to wonder what was wrong with me. But I didn't give up hope.
"My parents didn't think much of the idea. My mother would say, 'Why don't you become a lawyer, or something like that?' But I guess she's reconciled now. She runs a women's apparell [sic] shop back in Clarendon Hills, Ill, a Chicago suburb, and my father helps her.
"I have a brother, 15, Timothy Patrick Murphy. He's a Flip Wilson fan. My mother told me I'd be lucky if I could get him to switch from Flip to tune in my show. It's tough being up against the No. 1 show on the air."
This is really Murphy's second series.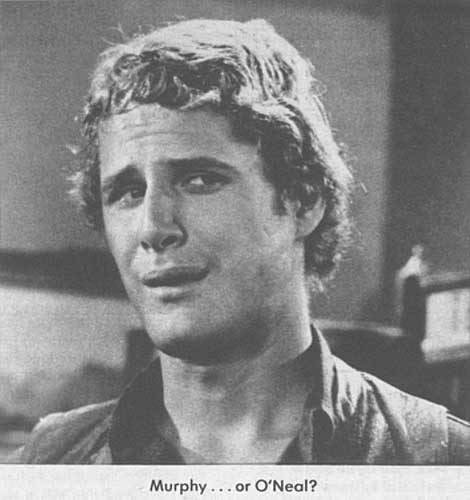 "I was the 'gopher boy'--go for this, go for that--for two years in 'Name of the Game,'" he pointed out. "I was in 14 out of 16 Bob Stack episodes as his assistant."
Other credits include "The Virginian," "It Takes a Thief," "Mod Squad," "The Outsider," and a featured role in the movie, "The Thousand-Plane Raid."
"I had such little chance for the 'Alias Smith and Jones' co-lead that they didn't call me until the night before auditions were going to be held," he narrated. "I was strictly from left field. Another young prospect was getting all the attention.
"But I seemed to click in the test with Pete and the role became mine.
At the ripe age of 29, which he attained yesterday he has never played a mature role "but this is the nearest to it," he pointed out. Nevertheless, they still call him "Kid" in this show and that's what Stack called him in "Name of the Game."
"Some day I've got to shake that 'Kid' business," he muttered.
Still a bachelor, he said "I like to play the field rather than going steady, but I did come close once." Meanwhile he makes his home in a rustic Hollywood apartment just minutes from the studio--a good 1500 miles from the town of his birth, Jonesboro. Ark.
"I'm oblivious to the outside world in my dedication to this business," he said. "Where once I would follow causes, you couldn't get me into an argument on anything now. I've never even voted, which is something for a political science major.
"The only thing I'd campaign for would be good health."
Some day, though, be may write a book on his travel experiences. He's been all over the country and has several scrapbooks full of impressions. His hobbies are swimming, skiing, riding horses, and playing tennis.

---
Back to Articles List