OUR LOVABLE LUCKY WILL COSTAR IN AN EPISODE OF NEW TV SERIES, 'THE GEMINI MAN'

National Enquirer, 1976

---

...In This Show You'll Watch Enquirer's Pooch Save the Life of Hero Ben Murphy
Lucky, The ENQUIRER'S cuddly canine, has hit the heights of TV stardom. He'll appear soon on home screens all over the country as co-star in an upcoming episode of the new NBC-TV series, "Gemini Man."
In this show you'll see our beloved pooch save the life of the hero, Ben Murphy, who plays secret, agent Sam Casey--and lead him to the rescue of the heroine!
Lucky was a forlorn, home-less pup when The ENQUIRER adopted him hours before he was to die in a dog pound four-and-one-half years ago. Our readers fell in love with him and, in a national contest, gave him his name.
As soon as he reported for work on "Gemini Man" at Universal Studios in Hollywood, Lucky proved he's not just another pooch with a pretty face. Said the show's coproducer, Robert F. O'Neill:
"At first, Lucky's part was to be only a minor one. But when I discovered how smart he is, I asked our writer to make his part much bigger so that he could be a major character. "
And I know I made the right decision, because the episode is certain to be one of the most exciting of the series."
Ben Murphy, who starred in the Western series, "Alias Smith and Jones," was equally delighted. He said:
"Lucky's first work on the show came late at night, when we try to avoid some killers lurking around a train. I was immediately touched by Lucky's eagerness to please, despite the eeriness of the setting and the late hour.
"From then on, he sticks by me throughout the episode as my faithful sidekick, who helps me out of scrapes."
In the show, our lovable pet is called by his own name, and the word "Lucky" also appears on his carrying case in the opening scene. Coproducer Frank Telford explained: "That's because Lucky is famous as a real-life survivor, and because he's lucky for the hero of the show."
Director Alan Levi told how our marvelous mutt outclassed six professional acting dogs to get the role:
"I called the six acting dogs, and Lucky, for tests several days before we began shooting. On looks alone, I narrowed it down to Lucky and another dog. I had them both run through the tricks the story called for.
"Lucky showed he was extremely smart and photographed well from every angle except the rear--because he has no tail. Lucky's terrific!"
Said Lucky's Hollywood trainer, award-winning Bob Weatherwax: "I was absolutely delighted with him. He learned every trick I taught him in record time.
"He's the sort of dog that every movie animal trainer would dearly like to own--he has all of the qualities that movie producers are searching for."
---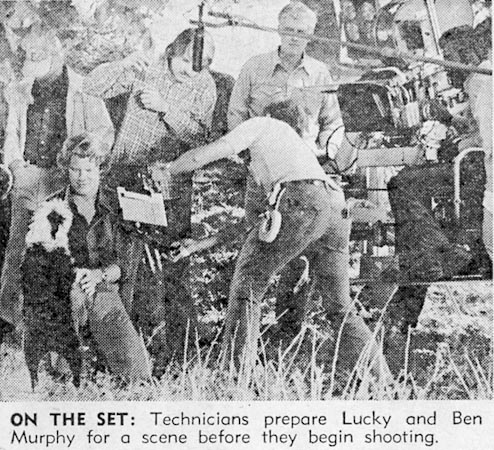 ---
Back to Articles List