MEET - BEN MURPHY
16 Magazine, April 1971
---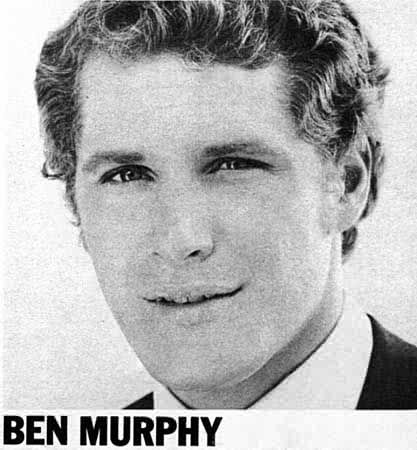 Ben Murphy is "Jones" in Alias Smith And Jones, and he first started fluttering hearts when he was a regular on the NBC series The Name Of The Game. In his new series, Ben and co-star Pete play a couple of good "bad guys"--à la Butch Cassidy And The Sundance Kid--and these two groovy guys together are dynamite!

Born on March 6 in Jonesboro, Arkansas, Ben bears a remarkable resemblance to Paul Newman! Ben is five feet and eleven inches tall, weighs 170 pounds and has blond hair and blue eyes. Ben originally had hopes of a career in baseball, but he decided that he needed a more creative outlet than a baseball bat!

Ben enrolled in five universities before finally earning a bachelor s degree in political science from the University of Illinois. He then went to California and received another bachelor's degree in drama from the Pasadena Playhouse in Los Angeles.

Bachelor Ben lives in an apartment in Hollywood. In his free time, he practices karate, reads novels and classic literature, and goes to movies and plays. Ben loves to travel and he is putting a book together on his adventures and observations while traveling throughout the U.S. and Mexico.
---
Back to Articles List