ATTENTION GIRLS!

BEN MURPHY FINDS HIS GIRL FRIENDS FROM FAN LETTERS

THIS IS HOW YOU TURN THIS LONELY BACHELOR ON!

Movie Life, June 1972

---

There are many stars who like to receive fan mail, and Ben Murphy, the handsome co-star of ABC-TV's Alias Smith And Jones, is no exception. As a matter of fact, Ben eagerly anticipates those letters. You see, Ben has found many of his lady loves from the mail that pours into the studio each day for him. Obviously, Ben is not about to pass up a chance to meet what could turn out to be his one and only dream girl, and so, he reads his letters thoroughly in hope that he may find her.
As Ben recently confessed, "The other day a woman sent me a snapshot in a bikini. I called her. She's coming out to visit." And Ben has lined up a few others for dating that he's become acquainted with through his fan mail.
Ben continued: "A girl from Washington, D.C. wrote, and she's coming out next week. The week after, a girl from New Jersey is spending a weekend here. I love this sort of thing."
Ben's certainly not the only one who must love it--imagine how fantastic it must be to have a fan letter answered with an invitation for date with your favorite star. It's rare enough to meet a handsome guy this way, but when somebody's a superstar, a guy you see on television every week, it's a dream come true. But it's absolutely true. Ben actually calls up fans and invites them to visit him. Yes, Ben is one smart Hollywood bachelor who is taking advantage of his fame to meet lots of new girls. And who can blame him?
What does Ben look for in a girl? Like any red-blooded, virile male, he certainly enjoys a pretty face and a curvy figure. Obviously, girls in bikinis are instantly appealing. And Ben likes his women to appreciate the simple things in life. Although he's undeniably single, a Hollywood bachelor, he's far from the ultra-sophisticated type that fits the description.
On the contrary, Ben leads a very simple life, and he likes his dates to be in tune with that kind of lifestyle also. His favorite outfit is blue jeans and a comfortable sport shirt, and his car is a familiar and very treasured old convertible. His apartment is nice, but certainly not the ultra-deluxe posh place that many would envision a star like Ben to maintain. As a matter of fact, Ben himself jokingly refers to his pad as being decorated in "cheap motel plastic."
Outdoor sports are also high on Ben's list of favorite things to do. He's not the type to go jetsetting from nightclub to nightclub, much preferring the daylight activity of swimming, skiing, riding, and playing tennis. And down-to-earth person that he is, Ben likes girls who have a zest for life. After all, he has every reason to be enthusiastic about the present and the future, and he expects his dates to derive the same satisfaction out of being alive.
As for the if and when of marriage, Ben isn't too concerned with that dilemma now. He laughs when you bring up the subject. Right now he's meeting too many fun-loving wonderful girls, many of them right through fan letters. He simply is digging the joys of being a very active girl-chaser.
"I do pretty well," Ben commented about his social life. "I have to find that girl-of-the-day and it isn't hard." And he readily confesses that the girl could be anyone--in other words, he's not out for a girl with a lot of money or a big name. Just someone who turns him on and with whom he has fun.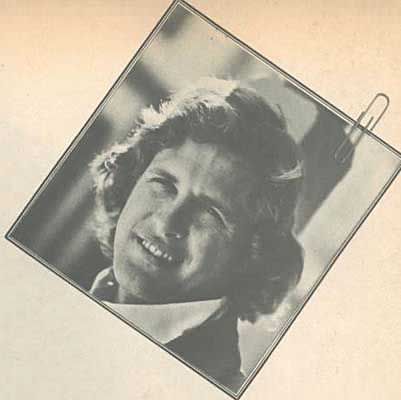 Things weren't always so great for Ben. There were times in his life when he was pretty miserable. Like the time he was attending an all-male Catholic college in Dubuque, Iowa. There wasn't a girl around for Ben to chase then.
"I had no contact with the opposite sex," Ben reminisces about that painful time in his life. "I felt stifled emotionally. I remember the day when to came to me....There had to be something more to the world than what I knew and was doing."
Thus began Ben's trip through eight different colleges, including Loyola University, University of the Americas, and the University of Illinois. One thing you can say, he's certainly a college dropout who has made good. [CJC's note: Ben wasn't really a drop-out, but a transfer student. He obtained two bachelors degrees.]
The only problem that really mars Ben's fairly idyllic life is his resemblance to actor Paul Newman. But then, what's so bad about looking like one of the most super-looking guys in show business?
"I only object to being told I look like Paul Newman, if the person who tells it to me then goes on to rate me second best," Ben stated honestly. "But I don't really look so much like him in real life. The resemblance is more in the films. It's the way they photograph me, the angles."
Before he won the role of Jed Curry on Alias Smith And Jones, Ben had a co-starring role as the reporter Joe Sample on the Name Of The Game series. He also had a small role in The Graduate, where he said his face was completely covered with shaving cream. His other early television credits include episodes of The Virginian, It Takes A Thief and The Outsider.
Now that Ben's the co-star of a top-rated series, his career is really in high gear. And by the looks of his appointment calendar, so is his social life. And Ben aptly summed it all up: "It's wild...I couldn't be happier."
So why not drop Ben a fan letter, tell him about yourself. Who knows, the next thing you know you'll be getting a phone call from the ruggedly-built, blond star himself asking you for a date. Ben's one of the few stars so actively interested in his fans.
You can write Ben c/o Universal Pictures, Alias Smith And Jones, Universal City, California. Good luck!
---
Back to Articles List