ALIAS SMITH AND JONES

The Official TV Western Book, vol. 3

by Neil Summers

1987

---

The enormous popularity of the big screen adventures of Paul Newman and Robert Redford as "Butch Cassidy and The Sundance Kid" had not yet faded from memory when producer Glen A. Larson hit on the idea of "Alias Smith and Jones." Hannibal Heyes and Kid Curry alias Joshua Smith and Thaddeus Jones were two gallant and amiable outlaws trying to go straight. The Governor of the territory they roamed had promised them a pardon for their past crimes if they could stay out of trouble for at least one year. There were a few obstacles to this promise of freedom though. Smith and Jones still had a sizeable price on their heads, a lot of grudges against them and a bit of larceny still in their hearts. They were chased by posses, bounty hunters and old outlaw friends who wanted them in on their latest escapades, and to add to their miseries, the women whose paths they crossed contributed to their problems. One in particular, Clementine Hale was a lovable rogue but nonetheless, she was the biggest thorn in their sides. Clementine was added to the cast to offer some continuing female interest. Smith and Jones were wanted for robbing trains in Wyoming Territory and the offer of pardon came from the Governor through Sheriff Lom Trevors who was the pair's go between. Lom had faith in the boys but it seemed that the odds were stacked against this hapless duo.
"Alias Smith and Jones" debuted on the ABC Network on January 21, 1971, in color at an hour in length. Handsome Peter Deuel starred as "Hannibal Heyes" (Smith) and Ben Murphy starred as Jed "Kid" Curry (Jones). The role of Clementine Hale was played by future Academy Award winning actress, Sally Field and throughout the run of the series there were two narrators in the persons of Ralph Story and Roger Davis. The series was a popular one and The Universal Studios brass allocated some extra money to the budgets for location filming in and around Moab, Utah.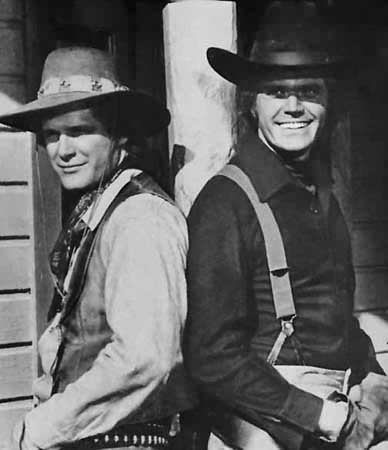 "Alias Smith and Jones" attracted such top guest star talent as John Russell (in the role of Sheriff Lom Trevors), George Montgomery, Walter Brennan, Jack Albertson, Glenn Corbett, Earl Holliman, Ina Balin, Cesar Romero, Burl Ives, Jack Cassidy, Frank Sinatra Jr., Sharon Acker, Rory Calhoun, Jack Kelly, Joe Flynn, Christine Belford, Jim Davis and Jack Elam.
Peter Deuel's mental state was deteriorating behind the scenes and he shot himself to death on December 31, 1971 in his Hollywood Hill's home. There were only a few episodes of "Alias Smith and Jones" in the can and the scramble was on to recast the Joshua Smith role pronto. The producers turned to actor Roger Davis who had been doing some of the narration for the show and a partially completed episode was finished with Davis redoing scenes already shot with Deuel in them. The series was renewed at the end of its first season with Murphy and Davis continuing, but the Clementine Hale role was fazed out.
"Alias Smith and Jones" filmed 48 episodes in its two-year run and its last original show left the air on January 13, 1973 but the series is still in reruns all over America. [CJC's Note: At the time this was written, 1987, AS&J was being rerun throughout America on The Family Channel.] Ben Murphy has just finished work on another series entitled "The Dirty Dozen," all filmed in Yugoslavia. He resides in Malibu, Ca. Not much has been seen of Roger Davis but he is still active and lives in California's San Fernando Valley.
"Alias Smith and Jones" was a light-hearted show but was also fast-paced and full of well-staged action scenes, with plenty of hard riding and rowdy fist fights and had a loyal following of viewers.

---
Back to Articles List