NEW LIFE IN OFFING FOR VIDEO WESTERNS
Rochester Times Union, January 16, 1971
---
Penfield actor Pete Duel and his new show earned good reviews after their special 90-minute introductory tale last week and will start appearing as a weekly series next Thursday.

Duel, son of Dr. and Mrs. Ellsworth S. Deuel of 1790 Penfield Road, Penfield, portrays Hannibal Heyes, also know as Joshua Smith, in a western-adventure series, "Alias Smith and Jones" on Channel 13 each Thursday at 7:30 p.m.

Associated Press television review Cynthia Lowry called the introduction "a good-humored treatment of a couple of engaging but bumbling outlaws of the Old West who are attempting to go straight. It might provide a weekly hour of mild amusement."

RICK DU BROW of United Press International was more enthusiastic after watching the first airing.

"While frankly similar to 'Butch Cassidy and the Sundance Kid,'" he wrote, "(it) was also funny on its own, a well conceived tale of two outlaws who feel modern times are catching up with them, and try, with difficulty, to get out of the bandit business.

"What was provocative and potentially significant about 'Alias Smith and Jones,' however, was not the 90-minute tale itself, but the fact that it was simply an introduction to an hour weekly series of the same name, which begins on ABC-TV Jan. 21

"If successful, the regular series version could mark a pivotal change in long-dormant video westerns.

"Funny westerns are not new for video. ABC-TV had a big hit years ago with 'Maverick.' But it has been some time since television has had a new and successful western...

"In a nutshell, 'Butch Cassidy and the Sundance Kid' solved the generation problem with its cool, hip, contemporary tone puncturing the traditional western form. It's only logical that 'Alias Smith and Jones' jumped on the bandwagon. Happily, it succeeded in rollicking fashion. If the series clicks, it could give video westerns new life."

IN THE EPISODE Thursday called "The McCreedy Bust," Duel and Ben Murphy, who plays Jed "Kid" Curry, alias Thaddeus Jones, are hired by a rich rancher to retrieve a bust of Caesar which was stolen from him.

What they don't know is that McCreedy is a great card player and very good at getting his money back from the people he employs.

Burl Ives guest stars as Pat "Big Mac" McCreedy and Cesar Romero guests as Ernesto Armendariz, the rich Mexican rancher who has stolen the bust.

Duel, a resident of Hollywood whose latest film was "Generation," is the brother of Geoffrey Deuel (he spells it the way his parents do), who played Billy the Kid in John Wayne's picture, "Chisum." Their sister, Pam, is a singer.

Photo Caption: Penfield's Pete Duel (right) play Hannibal Heyes, alias Joshua Smith, and Ben Murphy portrays Jed "Kid" Curry, alias Thaddeus Jones, in new series, "Alias Smith and Jones," beginning Thursday at 7:30 p.m. on Channel 13.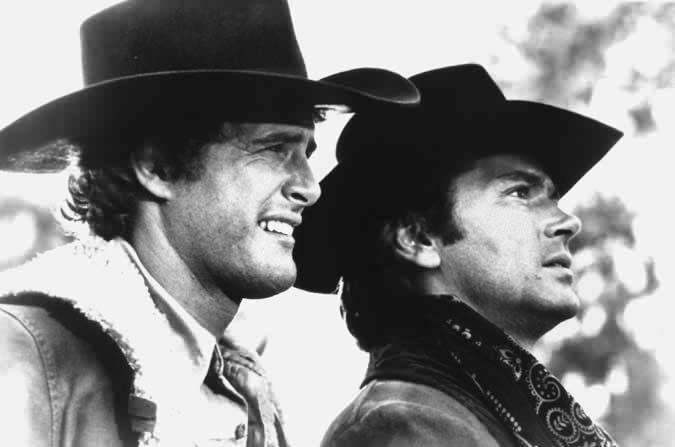 ---
Back to Articles List