WHY BEN MURPHY WON'T MARRY UNTIL HE'S 60!
by Pat Rogalla

Rona Barrett's Hollywood, September 1971

---

Or can you believe him when he says that health foods & organic foods are enough to hold him until he's earned 4 million dollars?
Even the advertising boys in the promotion department get to Ben Murphy through the long route.
Some of them, like Kent Jones of San Francisco's Macy's department store, say Ben is a buddie and then go ahead and write the copy the way a stranger would. "Ben Murphy, alias Jed 'Kid' Curry, alias Thaddeus Jones of Alias Smith & Jones will appear tomorrow at Macy's Tiger shop." And then when the girls flock in, Kent points Ben out as the one over there who looks like Paul Newman.
I wasn't any different. I looked for the star of the TV series Alias Smith & Jones in the crush of the Macy's crowd and when I spotted the young man who looked like Paul Newman, I knew I was in the right place.
And Lucille Ball sees the same thing. In the Lucille Ball-Henry Fonda film, Yours, Mine and Ours, Ben Murphy played their hippy son and Lucy couldn't get over how much Ben looked like Paul.
"Maybe that's where the Paul Newman thing started," Ben told me later. "Anyway, that's the first time I heard it." After a long moment Ben shrugged and added, "What I'd like to do--is do as Paul Newman does--act...direct...write...own my company."
What Ben Murphy was doing now was fun. Kent Jones of Macy's was pleased and so was Gerald Minnucci of ABC whose San Francisco station was looking forward to another successful year of Smith & Jones. Ben was, as Kent said, drawing in plenty of San Francisco gals into the mod men's shop.
"I had That Girl Marlo Thomas in Girls Wear a couple of months back," Kent said grinning, "and the guys in San Francisco jammed in around all those girl things and even bought before they left!"
Ben was standing on something now, getting a better look at the gals and vice versa. Everyone wanted an autograph and Ben was obliging happily. A brunette complained that she had been waiting longer for his autograph than the girl whose paper Ben had just signed and Ben stopped and looked over the situation.

"I guess it's because she is a blond," Ben explained, winking one of his blue eyes. "Blonds always stick out." There was a clamor from the other hair colors and Ben quickly said it really wasn't just blonds--that all girls look good to him. And they believed him.
I believed him, too. However, I discovered that some gals look especially good to Ben. Kent and Ben had a thing going and when a gal in the crowd put across a special request to meet again for old times sake, Ben would give a quick signal to Kent, who made a note to invite the gal up after the autographing to the communications offices were a few of us would be for the interviewing session.
"Ben is on vacation," Kent said, "and he knows some of his old friends will come here and he doesn't want to miss any of them."
"Yes," I said and marvelled at how young and attractive Ben's old friends were.
Ben did have some old friends in the crowd but it was obvious he was making new ones faster than the sounds of the cash registers. One pretty girl was so grateful for the Ben Murphy smile and autograph that she returns minutes later with a bouquet of pink and white carnations wrapped in the usual green paper with an unusually large note pinned to it and handed them to Ben.
Ben accepted, showing surprise (he obviously is not the type who receives flowers) and thanked the gal with pleasure. (However, I noted that she was not an old friend and therefore only the flowers made it up later to the communications offices.)
The group in the communications offices was small, matter of fact, so were the "old" friends. There were about a half dozen and Ben was glad to see them. "He was looking forward to someone he knew, but had lost touch with," explained Kent.
I didn't hear the conversations that went on between Ben and his friends but it was surprising how far flung territory-wise Ben's friends were. His personal friends come from all over the United States and Mexico. It's understandable only after sitting down beside Ben and listening to just what he has been doing the last 29 years.
It all has to start someplace and Ben began it all 29 years ago in Claredon Hills, Illinois. He is the oldest son in the Murphy family of four. After graduating from the University of Illinois with a political science degree, Ben has been steadily migrating south--alone.
He would like to say he has been running (literally) to the sun since Claredon Hills, Illinois, because that's the physical exercise he enjoys most. The truth is, his mother handed him the keys to an "oldie but goodie" Chevy so Ben does his traveling on wheels.
"I looked around Claredon one day and found I was really alone," Ben told me with a slight trace of sadness. "I didn't have many friends. In fact, I realized no one knew me and worst of all, no one cared! I thought, maybe I needed working on. That's what I've been doing. Trying to improve me. I want to expand. Marriage is not yet--for me. I've got more living to do--alone. Right now I would like to make it like Lee Strasberg--marry late and have children when I'm 60."
Ben spent a lot of time in New Orleans meeting new faces, attending interesting college courses and supporting himself by driving trucks and cabs. He felt he WAS experiencing, WAS expanding as a person and WAS south--but it wasn't enough. One day everything went back in the Chevy and Ben drove south again to Mexico City.
"I liked it there," Ben said thinking quietly. "It was warm, the people were warm." He enrolled in the University of Mexico to learn things he hadn't thought about before.
Life was happy in Mexico and Ben developed friendships he remembers well. (One of the girls who made it up to the communications offices at Macy's was a friend of Ben's in Mexico City. "Do you remember," she asked him, "how positive you were about becoming an actor?")
"The series is satisfying to me. Peter Duel (who is the Smith half of Alias Smith & Jones) is an honest man. Our association is good. We don't buddy around after working five days a week seven to seven. We work well together. Sure there are times when we each take a turn at being mad and jealous. There are days when I just don't want to look a the man and there are the days Peter can't stand to look at me. Then we kick each other in the ass.
"This past season Peter was one up on me in the series. For next season the segments are divided 50-50. The mail ABC sends me feeds my ego. There is a demand for Jones," and here Ben laughs, "of course I don't read Peter Duel's mail!" [CJC's note: This last phrase actually appeared in the article 5 paragraphs later, stuck disjointedly at the top of the next column. I assume that this was a typesetters error and placed it where I thought it should go in the text.]
Ben remembers. He made his decision to touch the world through acting hundreds of miles away from the acting studios of Hollywood. After he decided on that goal, he spent hours talking to his friends trying to convince them he was serious and further more would do it.
Ben went south again (in name only, not by the map) to southern California and the Pasadena Playhouse. He studied hard, drove cabs again for living money and ran all over the Hollywood Hills.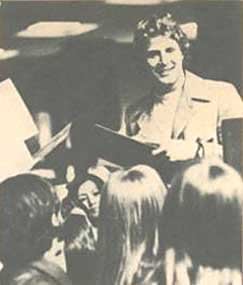 "About running," Ben said, "I think my spiritual philosophy is health. I feel I'm getting in a groove where I'm doing myself good when I'm running. I like to run. I feel good."
Things were going good, too. Ben was issued one of the last degrees in Theatrical Arts from the Pasadena Playhouse (it's now closed) and a two year contract on the Name of the Game TV series acting with Robert Stack. He auditioned for Love Story but they decided he photographed too young to play opposite Ali MacGraw.
So what are his goals at this moment?
"I want to do something," Ben replied "I will do something. I will be better. In Alias Smith & Jones I'll be doing more. I'm taking singing and guitar lessons now and I will do those things in next year's segments. I'm even going to submit scripts for the show."
What is Ben Murphy like in the home, I asked?
"For starters, I don't cook," Ben said emphatically. "I haven't even tried boiling water. When I step into my apartment I shower and leave for one of my two favorite organic food restaurants. Just around the corner from my apartment in the Hollywood Hills is an organic food restaurant run by a lady who is old enough to be my mother and acts like it. She cooks the food and serves me the amount she thinks I should eat. My own mother? Our relationship is much the same--businesslike. Not demanding on my personal hang-ups.
"I like fresh fruit and vegetables. I am a strict organic eater. Drugs may be of some use in curing diseases but I'm suspicious of drugs in any form. I don't even take aspirin.
"I don't collect furniture. I feel possessions tie you down. I live of half of what I make. The rest is invested in land and stock. When I am 60 and reach my financial goal of four million dollars, I will leave it to charity. That's what I want my contribution to be in this life."
It probably isn't fair but sometimes during an interview I shoot in a question to sum it all up--to focus clearly. The question is always very hard to answer so maybe I'm searching along the wrong avenue. Here it is--Are you different from all the others?
Ben Murphy leaned towards me and his eyebrows were lifted, forming an inverted V on his forehead.
"You have to answer that question for me," was all he said. Then followed a long minute. I waited for him to say what he was thinking.
Finally he reached over and laid his hand on my arm. He was looking past me as he spoke, but the words came quite easily. I managed to write them all down and at the same time hear a photographer snapping away.
(When Ben Murphy has a far away look in his eyes, he seems to be far away!)
"Pat, we meet today and we are strangers. If I asked you to come live with me for two days, and we did, when it came time to say goodby, it would be as if we were standing in the street meeting for the first time. We would be strangers. I know.
"It has happened to me before...late at night...after hours of talking...watching TV together...beautiful silences...she will lean over and say to me, 'I don't know you.'" He seemed to feel amazement that the situation he described should exist.
I had one last item to clear up. What about the Paul Newman image hanging on Ben? What, if anything, was he doing about it?
Ben Murphy turned to look directly at me. His blue eyes showed surprise in them. "I don't think I look like Paul Newman," he said quietly.
---
Back to Articles List