FROM A COLLEGE DROP OUT TO A MURPHY BEN OF ROSES
by Morton Moss (TV Editor)
Los Angeles Herald-Examiner TV Weekly, February 21, 1971
---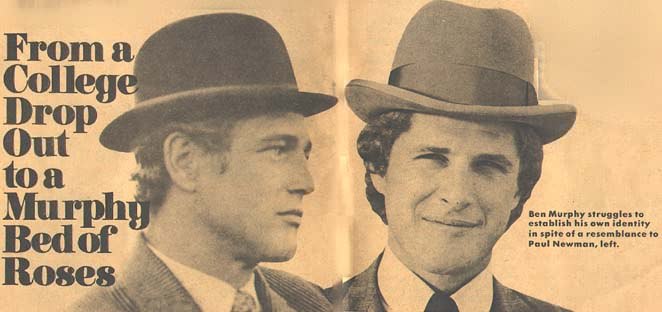 Ben Murphy, in a way paralleling the basic plot situation of Alias Smith and Jones, had been running until he was promised amnesty by an actor's career. In the series, the two young rogues will be amnestied for past crimes if they can resist further anti-social forays.

That he finally evolved into an actor proved a sudden solution to an inner dilemma. But if he had been looking for an omen, he might have found it in the fact of his pronounced facial resemblance to Paul Newman.

Murphy, paired as the outlaw pardner of Pete Duel in the ABC western parody 7:30 Thursday night, knew better what he was running away from than what he was running toward.

In the course of this restless odyssey, he managed to enroll in eight colleges and pick up a couple of degrees. The University of Illinois contributed a B.A. in Political Science and the Pasadena Playhouse a B.A. in Theatre Arts.

"I went to a men's Catholic college in Dubuque, Iowa,"Ben said. "I started to search for something new and different. I had no contact with the opposite sex.

"I felt stifled emotionally. I remember the day when it came to me. It was snowing. There had to be something more to life than this. There had to be something more to the world than what I knew and was doing."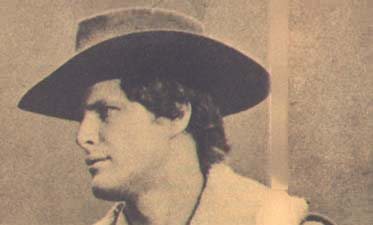 Ben, of course, hasn't been the first young man to be afflicted by a sense of futility, disorientation and a need to break out. This dislocation is repeated each generation bit it seems to have grown more intense and thrown its net wider in the past 10 or 15 years.
So the chase was on for the boy after he quit Loras College in Dubuque. Raised in Jonesville [sic, Jonesboro], Ark., he returned to the South to attend Loyola College of New Orleans.
That added the co-ed aspect but he still floundered badly. He went farther South, all the way to Mexico City. A thorough change of venue, a different, more artistically oriented culture.
He studied at the University of the Americas. Still no good. He quit again, went back to the United States, made the rounds of the University of Illinois, Loyola of Chicago, USC, San Fernando Valley State, and the Pasadena Playhouse.
Why the fresh turn to the Playhouse? Well, chance--if it was chance--had inoculated him with a bug at Illinois. It had continued to work in him until it finally burst forth to the light of day.
"I used to deliver the school paper at Illinois," he recalled. "One day I was reading it, The Illini, and I happened to see a story where volunteers were wanted to act in Julius Caesar. I had nothing else to do. I was still searching. Just as a lark, I volunteered. That was my first try at acting."
But he didn't follow it up. His mind was filled with too many opposing motives. He hadn't yet discovered the true North on his compass. He wandered to Mexico City again--the University of the Americas.
"I was studying international relations there," Ben said. "I got bored with all that library stuff. I just dropped out. Then, a friend and I developed one of those unbeatable systems to beat the races. We played at the track down there, the Hipodromo.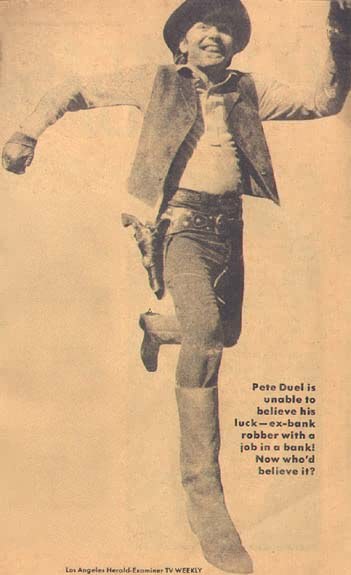 "It was then that I thought it all through. I consciously set myself to clarifying my life. My full range of feelings and abilities weren't being put to use. I was disturbed. I needed an outlet. I thought of music. I thought of painting. They weren't for me. And I thought of acting. I thought maybe that was."
Murphy served the cause of justice as No. 2 to Robert Stack in some dozen or more episodes of The Name of the Game. He has guested in numerous series. And he had a brief appearance in the movie, The Graduate.
"My part in The Graduate was very small," he laughted [sic]. "I was on for a short time and I was hidden behind my shaving cream."
His resemblance to Paul Newman has pursued him through the alleys and purlieus of the film city. On that score, his emotions are mixed.
"I only object to being told I look like Paul Newman," said Ben, "if the person who tells it to me then goes on to rate me second best. But I don't really look so much like him in real life. The resemblance is more in the films. It's the way they photograph me, the angles."
Certainly, the duplication of the Newman physiognomy hasn't harmed Ben. Knowing the operation of the TV executive mind, we wouldn't be bowled over if that inspired the decision to test him for the part of Jed (Kid) Curry.
Newman was in Butch Cassidy the Sundance Kid [sic] and that picture, a box-office winner, was a stimulus to Alias Smith and Jones, also in the lovable outlaw tradition.
"I met Paul Newman one day on the tennis court," Ben said. "I had blustered onto the court where he was playing, without realizing it. A friend introduced me to him. I didn't open my mouth, I was so shy. All my life I've been told I look like him."
Murphy, tested in October, proceeded through the filming of the pilot in 15 days of the same month. ABC's executive suite, in a rash of blinding insight, abruptly and very late, concluded it must have Alias Smith and Jones as a mid-season replacement.
In an atmosphere of rowdy, helter-skelter, filming began Dec. 7, another reason why members of the crew regarded that as a day that will live in infamy.
We've heard of pressure in whipping together a series but never of quite this boiler-threatening variety. Last week, the working day kicked off at 7 in the morning and reached a weary halt at 1 a.m. Wives and families of the crew have been brought to the set in order to retain their acquaintance.
"It's wild," said Ben, "and I've never been happier."

---
Back to AS&J Articles List or Ben Articles List