BIOGRAPHY BEN MURPHY

Movie News, May/June 1975

---

"Man, that was really a long trip!"
So commented Ben Murphy star of the popular "Alias Smith and Jones" TV series when he stepped out of the Jumbo jet that brought him 'downunder' last year to star in the new Australian film "SIDECAR RACERS". By contrast, Ben's shortest trip has been his meteoric flight to stardom as an actor. His record-breaking journey started with a forgettable one-line role in Dustin Hoffman's 1967 film "The Graduate", led him to stardom in television, and now to his return to feature films in the movie version of Australian author Jon Cleary's exciting motor cycle racing adventure "Sidecar Racers". Ben stars in this with a large Australian cast including John Meillon and Wendy ("Petersen") Hughes and guest Hollywood star Peter Graves of TV's "Mission: Impossible" fame.
In "Sidecar Racers", Ben plays an olympic surfboard champion who gets "hooked" on the sport of sidecar racing while on a visit to Australia. He joins a young Australian motor bike racer in an attempt to win the classic Easter race at Bathurst, NSW and a trip to Europe sponsored by a big tyre company. The attempt earns Ben the hostility of a bunch of violent bikies and the animosity of rival race competitors, and also involves him in an off track romance with his partner's girlfriend.
Coincidentally, Ben Murphy's earliest ambition was to become a professional sportman. He wanted to make a career as a baseball player, but it didn't take him long to discover the limitations of sport for self-expression, and self-expression has always been important for Ben, who was born March 6, 1943 in Jonesboro, Arkansas.
Ben first went to school in Elvis Presley's hometown--Memphis, Tennessee. But when he was eight, his parents moved to Chicago, where he did most of his growing up. In high school, Ben was something of a loner. School and life itself bored him, and he eventually attended a total of nine schools and colleges in eight years before he graduated with a degree in political science from the University of Illinois.
Meantime, Ben had discovered acting. "I'm basically a shy person, and I knew the art of acting would help me over come that," he explains. While he was at the University of Illinois, Ben answered a casting call in the college paper, and wound up with a small role in a university production of "Julius Caesar". He found that he enjoyed acting very much, and went on acting in more college plays.
After graduating from the University of Illinois, he enrolled as a student at the famous Pasadena Playhouse, from which he graduated with a degree in drama. An agent spotted him while he was acting in a play in Los Angeles, and sent him around the Hollywood movie studios for auditions.
Ben's first movie role in "The Graduate" was followed by a bigger part in "Yours, Mine and Ours" with Lucille Ball and Henry Fonda. Then he was signed to a long term contract by Universal studios in 1968. He had important roles in episodes of such major TV series as "The Virginian", "It Takes a Thief" and "The Outsider" and then spent two years as Robert Stack's sidekick in "Name of the Game".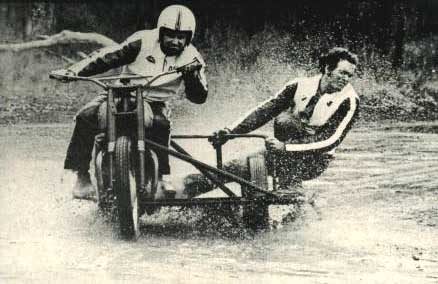 However, Ben really reached TV superstardom when he was signed up to play the Paul Newman role in the TV series "Alias Smith and Jones", which was inspired by the hit movie "Butch Cassidy and the Sundance Kid". But as the whole world knows, Ben's co-star Peter Duel tragically committed suicide just as the series was gaining impetus. A replacement actor didn't catch on and, after 51 episodes, the show was cancelled.
Photo Caption: Hollywood's Ben Murphy, from the "Alias Smith and Jones" TV series (right), swaps horses for motor bikes in the new Australian movie, "Sidecar Racers", in which he partners local actor John Clayton in a series of exciting races. The film is a Universal-CIC release.
However, the end of the TV series has finally paved the way for Ben to gain leading man status in films by coming to Australia to star in "Sidecar Racers". Ben enjoyed his stay here so much that he stayed on for another four weeks after shooting on the movie was completed. "I didn't want my studio in Hollywood calling me back for another show," he explained. "So I had the extra four weeks added into the contract covering the film in Australia." In order to meet the arduous physical demands of "Sidecar Racers", Ben followed a strict "keep fit" training programme, often jogging on the nearest Australian playing field after the days shooting was completed. However, the training did not prepare him for the accident which occurred on the first day of shooting at Warriewood Beach, NSW. Ben had to ride a surfboard out through the waves, but got into difficulties in a strong rip, and had to be rescued by local lifesavers!
In private life, Ben is not your usual typical Hollywood star. At home in North Hollywood he lives very simply in a tiny two-room apartment and drives a beaten-up 1966 Chevrolet worth only about $200.
HIS STATISTICS: Name - Benjamin Murphy. Born - March 6, 1943 in Jonesboro, Arkansas. Height - 5 ft 11 ins. Weight - 12st 12lbs. Hair - Light brown. Eyes - Blue. Address - C/o Screen Actors Guild, 7750 Sunset Boulevarde, Hollywood, California, 90046 USA.
HIS FILMS: "The Graduate", "The Thousand Plane Raid", "Yours, Mine and Ours", "Sidecar Racers".
---
Back to Articles List