SPECIAL NEWS FOR ALL FANS OF ALIAS SMITH & JONES
by Liz Williams

British Alias Smith & Jones Fan Club Newsletter

Superstar Magazine, March 1973

---


Well, Ben and Roger are still enjoying a life of comparative leisure right now...Although practically anything would seem leisurely after the hectic schedule they were working to on Alias Smith and Jones!!!
In fact, Ben has been working pretty hard during the last couple of months--at least, that's according to everyone except Ben himself! His explanation of why he just can't agree that it's all hard work goes like this:
"Well, you know how crazy I am about getting to travel around? Anything that involves travelling seems like a vacation--and that's what I've been doing most of the time...Stopping off at various places round the country to make personal appearances...I've almost gotten myself a guilt complex at having such a good time when everyone else seems convinced that it's all such hard work!"
So far, his "working" travels haven't taken him very far afield--though he had a wonderful time in Venezuela early last month. According to the original schedule, Ben was to stay over for three days, but he was having such a great time that he asked if he could kind of 'elasticate' the visit! It was more like a week by the time Ben finally left to return to L.A.!!
Roger has been quite busy lately, too, as a matter of fact. Since 1973 stated, he's already made a couple of one-off productions for ABC. But neither he nor Ben has been assigned to a new series yet.
One person who's making the most of this lull in the filming schedule is Jaclyn, Roger's beautiful wife! All the time he was working on Smith & Jones, she only used to see him for a couple of hours each evening--and then she was usually roped in to taking him through his lines for the next day! Of course, if Roger was offered the chance to do a series he really liked, nobody could be happier for him than Jaclyn, because, much as she loves having Rog around the place, she knows how much his work means to him. And his happiness comes first with her.
There's just one more thing I must squeeze in before I run out of space: that's a special Happy Birthday wish to you, Ben, from all of us here in Britain. If we have any say in the matter, March 6th will turn out to be the most wonderful day you ever had--with a whole year to match it afterwards! So love and best wishes from Superstar and all its reader.
P.S. Don't forget that Roger's Birthday is coming up soon, will you? The 5th of April is the date, so engrave it on your memory, here and now!
S.O.S. Alias Smith & Jones fans!
Two people who have written to join the Alias Smith & Jones Fan club will not have received their wallets because they've sent their P.O.'s and forgotten to include their names and addresses. The P.O. numbers are: 944560 from Port Talbot, Glam., and 639586 from London, W.14. Let's here from you soon so we can send those wallets that we've saved for you.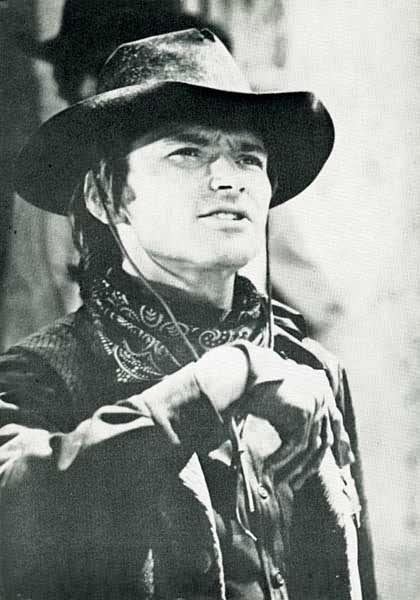 ---
Back to AS&J Articles List or Ben Articles List or Roger Articles List