SPECIAL NEWS FOR ALL FANS OF ALIAS SMITH & JONES
by Liz Williams

British Alias Smith & Jones Fan Club Newsletter

Superstar, November 1973

---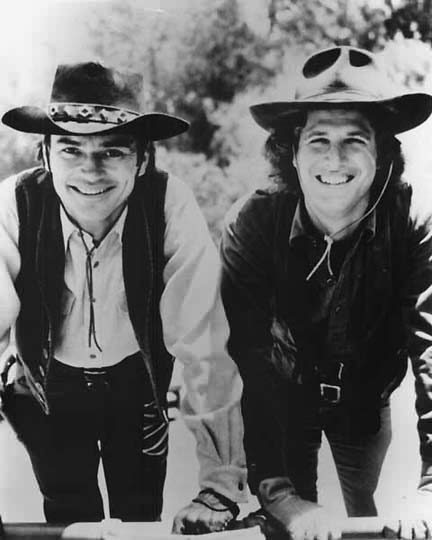 It's happened! They're back!
And I hope that, by the time you're reading this, you will already have spent a couple of blissful Monday evenings soaking up the atmosphere of the old West and making up for all that lost time! Of course, I'd hoped to be able to give you advance notice of the programme's return to ensure that you wouldn't miss a single one of this last series of the show. But I'm afraid the BBC set their dates for the new transmission schedule just wrong--as far as our press date was concerned. So I've had to sit on this marvellous piece of news for a good few weeks before I could share it with you!
Anyway, there we are. They came back on the 22nd October and will be with us for another seventeen whole weeks! There's something to look forward to through the dismal winter months!
Of course, after that we'll have problems. Because there aren't any more programmes to come--no matter how much we, or the Beeb, would like them. I'm sure you'd be perfectly happy to have the earlier series repeated umpteen times...Anything so long as we can see Kid Curry and Hannibal Heyes on the screen! But I've got a funny feeling that we may have a tough ride convincing the BBC of that. After all, I suppose they've got their problems too... I gather that they get enough letters complaining about the numbers of repeats they show already, so they're certainly not going to be begging for any more!
Don't get too panicky about it though. Because, as far as I can work it out, the present series will take us well into February. And that's about the time when Ben reckons he should be able to manage a return visit over to Britain. Hopefully, all the arrangements for his upcoming film will have been smoothed out by then, so we'll have him with us for quite a while. But he plans to come over whatever happens, even if the visit has to be briefer than he'd like.
Wouldn't it be great if Roger could come along with him then? By the time this series is really underway I'll guarantee you're going to feel as jf you've known and loved him all your life...He's just got that kind of personality. So I reckon that, by next Spring, we'll all be dying to meet him in person and see what he's like without the 'Alias'. I know for sure that Roger himself would love nothing more than to make a visit to Britain, but I fancy that he's a tiny bit nervous of meeting you all for the first time. Maybe Ben'll put him right about that and convince him of the sort of welcome he'll have coming his way!
Meanwhile, I gather some of you are thinking that I might have forgotten about Pete...Simply because I don't talk about him too much. Let me assure you here and now that I have not forgotten --I never could forget him. But what more is there to say? I know you would find it as unbearable as I would if I tried to put in regular 'newsy' items about him each month. There is not, and there cannot be, any news of him. And I hold that it's better to feel regrets than to keep on expressing them in words.