LIFE IS ALWAYS HARD AMONG THE LOSERS ON TV

by Lawrence Laurent

TV Channels, The Washington Post

October 29, 1972

---

Ben Murphy has sampled higher education at eight colleges and universities, but none of this learning can help him with a series called "Alias Smith and Jones."
Ben started college at Loras College in Dubuque, Iowa, shifted to Loyola of New Orleans, moved to the University of the Americas in Mexico and settled at the University of Illinois, where he earned a bachelor of arts degree. He went on to graduate work at Loyola of Chicago, studied acting at the Pasadena (Calif.) Playhouse and has since sampled courses at the University of Southern California and San Fernando Valley State College.
All of which won't help him solve the problems on the "Alias Smith and Jones" series (8 p.m., Saturdays, ABC, 7). The show has a placement problem. It has always been scheduled opposite ratings powerhouses.
The Western series was rushed into production in January of 1971 and set as the "second season" replacement for Vincent Edwards' instant disaster called "Dial Hotline," later known as "Matt Lincoln." Scheduled directly opposite the show was NBC-TVs "Flip Wilson Show," the biggest hit of that season (and still one of the top five in all television).
Against Flip's re-runs, "Alias Smith and Jones" got enough of an audience to keep folks at ABC-TV and at the Universal Studios, where it is produced, thinking. 'Well, maybe next season..."
Next season things got worse. The best "Alias Smith and Jones" ever did in the Nielsen ratings was a peak of 38th place. Its low spot was 54th. Still, it picked up again while Flip was in reruns; enough to get folks at ABC-TV and Universal to thinking: "Well, maybe in another time slot..."
The first placement, admittedly, had been a disaster. For this season, "Alias Smith and Jones" had a new location. The second placement, admittedly, is a calamity.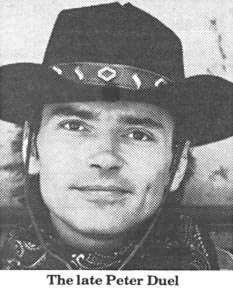 Having moved away from competition with Flip Wilson the western series is now opposite "All in the Family," which (except for blockbuster movies) is usually in first place in the ratings.
In this season's first ratings report, "Alias Smith and Jones" ranked dead last (65th among 65 prime time programs). It was reaching 8.7 per cent of all TV homes and 16 per cent of these looking at TV between 8 and 9 p.m., Saturday. In the most recent Nielsen ratings, it was 66th with a rating of 10.3 and a 17 per cent share of the audience.
The show had bad luck, elsewhere. Peter Duel, the personable young hero, was found shot to death, December 31, 1971. Police said it was "a possible suicide or accidental killing." He had completed 18 episodes of the 22 needed for that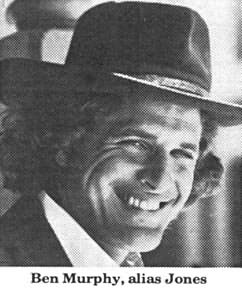 season.
Mr. Duel was replaced, five days after his death, by actor Roger Davis. He had been doing the voice/over narration at the beginning of each episode. His experience included a minor role in "The Gallant Men" series and his having played eight different roles in the "Dark Shadows" daytime series. Oddly, he had been in an episode of "Alias Smith and Jones," portraying a smiling villain.
In turn, Ben Murphy stepped up as the real hero of the series. He is 30 years old, lives in an apartment near the studios and says his place is furnished in "cheap motel plastic."
Murphy has been under contract to Universal for five years. He used to turn up as an assistant to Robert Stack in "The Name of the Game" series, but he wasn't enchanted by that work. "I could have pho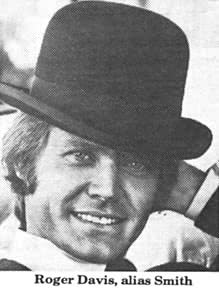 ned in my lines," he says.
Despite the low ratings, this isn't a bad series. True, it is a direct steal from "Butch Cassidy and the Sundance Kid," but worse models have been chosen.
Its main appeal lies in the gay, nonchalant kind of comedy that runs through each episode. It has the same kind of quality that made the "Maverick'' series a delight during the first two years of its run. The heroes are losers in every episode and no matter what larcenous stunt they bring off, they are going to wind up without the money, the jewelry, the mine or the ranch.
Usually, such losers are taken to heart by the television audience. But not when placed against such programs as "The Flip Wilson Show" or "All in the Family."
All of which may have those executives at ABC and at Universal thinking: "Well, maybe ... just maybe .... "
---
Back to Articles List