"I DON'T EXPECT MY WIFE TO SIT AT HOME...AND WAIT FOR ME!"

by Joan Goldstein

Modern Screen, February 1973

---

Very much a product of our times, Roger Davis has come to terms with life's incongruities, one of them being the anachronistic quality of a forever marriage contract in today's transient world. And, although he hopes his own lasts forever, he very honestly shrugs, "But who the hell knows. How can you guarantee a lifetime when you can't even be certain of what will happen in a day, or a month."
This doesn't mean that he has any plans of running out on marriage or marriage running out on him. It means that he's given the subject a lot of thought, and has reached a point where he can put aside all the romantic, often archaic, notions people are raised with and deal with it realistically. In other words, in marriage, as he says: "You can't lose your perspective of what it can or cannot be. There's no formula that's going to fit everybody's needs. It's a matter of two people working it out, finding the way that's best for them."
And while Roger and his wife, actress-model Jaclyn Ellen Smith, whom he refers to as Ellen, jumped into marriage after only a month-and-a-half of dating, they've been anything but impulsive in handling their marriage over the past three years. They confront each problem as it arises in an effort to have their relationship grow with them and their changing needs. One problem that has arisen because of their careers is that of long separations.
Roger told a little anecdote about what can happen during these periods: A picture of him with an unidentified woman popped up in a magazine captioned to the effect of "Who is he with? She's definitely not his wife!" "Well, she happened to be a friend of my wife's and mine. In fact, she was one of our bridesmaids when we were married," Roger laughed. Knowing this kind of thing is not unusual, and can cause many jealous eruptions between husband and wife--particularly if the unidentified woman doesn't happen to be a family friend--I asked Roger how he would feel seeing a picture of his wife out with another man. His answer was, "I don't expect my wife to sit at home and wait for me." He wasn't being glib when he said this, just practical--which is part of the paradox of Roger Davis. A great romantic on the one hand whose vast reservoir of literary knowledge flows freely through any conversation--quotes from great poets underscore many of the points he makes--Roger, whose blue eyes penetrate to the core of any situation, won't fall into the trap of believing the romantic myths we've all been fed on including those about marriage.
"Love? It's all there, but different for everybody." Roger feels it's a nebulous term at best, although it's love that makes you want to share your life with somebody; marry them. Yet his analysis is: "Marriage starts on an emotional level and ends up intellectually." Which doesn't mean that the emotions disappear. What it means as far as he's concerned is that in order to make it work, once the blinding flames die down, people have to look at their marriage and themselves intelligently, and continually negotiate it as you would any contract.
At best the idea of a contract is devastating to Roger. "Contracts have a negative connotation," he says. "There's not one contract I've signed yet, that I haven't lived to regret...The marriage contract is more binding than most others because it wraps up almost every area of your life. It's a social contract." However, Roger feels that because it is a social contract the two partners, given the desire and wherewithal, can work out their disagreements in such a way as to improve their relationship. And, he feels that his and Ellen's is constantly blooming.
The fact that they have similar careers, rather than hinder them as it does many show business couples, seems to give them a better understanding of each other. For instance, when his work demands great passion before the cameras there's no jealousy from his wife, and no instant infatuation on his part. "It doesn't take long to realize that onscreen kissing is Let's Pretend Time," he says.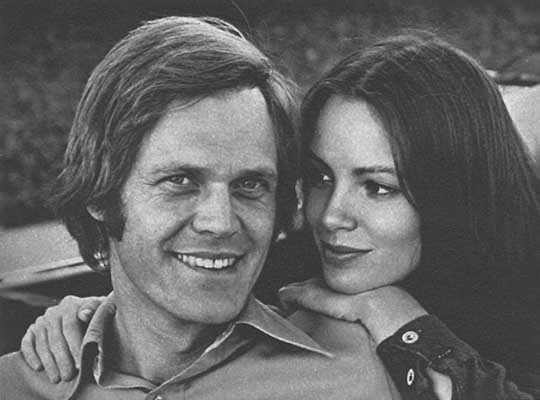 In fact, according to him, so much of what the entertainment world floods us with is pure fantasy--but the kind of fantasy that swallows people up--as in the TV family situation shows, vintage late '50's early '60's. "Many youngsters who didn't come from the cozy, happy kind of home depicted on these shows felt isolated and cheated," Roger stated, using Arthur Bremer, the man who shot Governor Wallace last year as a prime example. Bremer, in a composition he had written while in school, lamented the fact that Donna Reed was not his mother. On her series, The Donna Reed Show, Donna represented the perfect mother, perfect wife. Any youngster from a different kind of family seeing the show might feel deprived, not knowing that Donna's own life was far removed from the perfection she portrayed on TV. That in real life Donna's marriage was suffering. Ozzie and Harriet was another couple any youngster would have traded in his parents for. Roger noted here, "I just did a show with Ozzie and Harriet, and I was very happy to discover that they are very close to being Ozzie and Harriet."
Be that as it may, Roger's own parents did not fulfill the image of the TV parent either. He spent seven years in a military boarding school, and used to shock friends when he said he wished his parents would divorce. Born in Louisville, Kentucky, he's one of three children, all males. From an early age, he felt his parents' marriage was not the best. "We relate to the marriage we saw while growing up, and in most cases they're bad."
At first, Roger felt his was the only home that lacked the peace and harmony perpetrated by the American dream machine, but on hearing what went on in the homes of his schoolmates, he realized that disharmony was almost the order of the day; the only difference between him and his friends was he didn't pretend life was a bed of roses. He saw life for what it was.
Of his parents, he relates, "Mom used to read two to four books a day, her favorite writers being Tolstoy and Dostoevsky. My father read only one book that I know of: The Cincinnati Kid. And in many ways that's exactly who he was. He'd bet on anything. If a bunch of rats went charging down the street, he'd bet on who'd win. A born gambler, he also broke his back to get ahead."
Roger's dad did succeed financially, and now owns a big tire company for which Roger writes, produces and directs commercials. He also saw to it that his sons would have the best education money could buy, which is how Roger claims he wound up in New York's Columbia University, majoring in English literature, even though he claims the only worthwhile book he'd read until that time was The Scarlet Letter. With his mother's interest in books this is a little hard to believe, but nevertheless, that's how Roger tells it.
His immediate reaction to Columbia, on seeing a frieze with Demosthenes in one of the great halls, and finding his two roommates were Greek--one from Athens, one a Greek-American–was that he was in a foreign land. Yet, in no time at all he began to savor the cosmopolitan atmosphere he suddenly found himself in--a far cry from Louisville, and a far cry from Castle Heights Military Academy in Lebanon, Tennessee.
It was at Columbia that Roger became interested in acting, and studied with drama coach Michael Howard. During vacations from school, he appeared in summerstock in Woodstock, New York, and
with the Repertory Theater in New York City.
From Columbia, he was slated to go on to Harvard Law School, but a part-time teaching fellowship at UCLA lured him away from Harvard after only one week there. At UCLA, he received a Master s Degree in English literature, and was teaching freshman English there when he quit to accept his first TV role, that of Pvt. Roger Gibson in The Gallant Men. Following that, it was back to New York and daytime TV's smash hit Dark Shadows in which he played eight different roles. (He terms himself a working actor and makes no apologies for taking any kind of acting work he can get.)
As for Alias Smith and Jones, before Peter Duel's unfortunate death, Davis was the narrator on the show. At first he felt awkward taking over Duel's role because there was such a pall over the set. As he says, "These things take a long time to forget. Death is one of the hardest things to accept...it affects everybody to the very roots of their being."
But now he says, "I'm enjoying it immensely."
Roger credits Roy Huggins with the success of the show. And getting back to marriage, he points Roy out as having one of the best ones going. "He's a wonderful family man with a phenomenal wife and three marvelous kids." He feels that the warmth and understanding Huggins exudes in real life comes through in his scripts. "He writes them with the same lightness and charm with which he sees life. The people on the show are real because Huggins is so real."
And Roger too seems very real. He calls it as he sees it. His easy manner and way with words reflect a man who's gotten it all together.
---
Back to Articles List