Excerpt from RIDING THE VIDEO RANGE, THE RISE AND FALL OF THE WESTERN ON TELEVISION

by Gary A. Yoggy

McFarland & Company, Inc.: Jefferson, North Carolina, and London, 1995

pp. 471-484

---

Unlike The Guns of Will Sonnett, which used a rhyming verse to explain the series premise at the beginning of each show, Alias Smith and Jones employed a montage of scenes from the two hour pilot plus a voice-over narrative to open each episode:
Hannibal Heyes and Kid Curry, the two most successful outlaws in the history of the West, and in all the trains and banks they robbed, they never shot anyone. This made our two latter-day Robin Hoods very popular--with everyone but the railroads and the banks.

(Heyes and Curry are shown being chased by a posse)

KID: There's one thing we gotta get, Heyes.

HEYES: What's that?

KID: Outta this business!

(Heyes and Curry are shown listening to)

SHERIFF TOM [sic] TREVORS: The Governor can't come flat out and give you amnesty now. First, ya gotta prove ya deserve it!

HEYES: So all we've gotta do is stay outta trouble until the governor figures we deserve amnesty.

CURRY: But, in the meantime we'll still be wanted?

SHERIFF: Well, that s true. Till then, only you, me, and the governor'll know about it. It'll be our secret.

HEYES: That's a good deal?

(Another shot of Hayes [sic] and Curry being chased by a posse is shown)

HEYES: I sure wish the governor'd let a few more people in on our secret.
The series, created by Glen A. Larson and produced by Roy Huggins, was obviously inspired by the popular 1969 film Butch Cassidy and the Sundance Kid, which starred Paul Newman and Robert Redford. The movie romanticized the lives of two actual bandits who robbed trains and banks at the turn of the century. Directed by George Roy Hill from a screenplay by William Goldman, Butch Cassidy and the Sundance Kid did well at the box office and with critics. Newsweek's Paul D. Zimmerman wrote:
The Western, that Hollywood archetype, has outlived its usefulness as a straight dramatic device in which good, dressed in white, guns down evil, dressed in black. Instead Goldman and Hill have turned out an anti Western... (in which) the railroads are the villainous symbols of an increasingly impersonal, industrialized and mercantile society.... The century and frontier life are both ending, but Butch Cassidy and the Sundance Kid refuse to surrender to this changing America, holding up trains and banks as though the sheriff and the local posse were their only adversaries.[24]
Years later noted film critic Leonard Maltin gave the film four stars and described it as a "delightful seriocomic character study masquerading as a Western."[25] Alias Smith and Jones emphasizes the lighthearted comic side of its two main characters, Kid Curry and Hannibal Heyes (alias Thaddeus Jones and Joshua Smith), but can hardly be considered an "anti-Western." Heyes and Curry are depicted as two charming and courageous outlaws (formerly of the Devil's Hole Gang) trying to go straight. There is a considerable price on the head of each man ($10,000 "dead or alive") and practically every marshal, sheriff and bounty hunter they run into would like to collect that reward.
Like Butch Cassidy and the Sundance Kid, who really existed, Kid Curry was based on an actual historical character. (There is no record of a "Hannibal Heyes.") The real "Kid," however, bore little resemblance to the television version. Born Harvey Logan in Dodson, Missouri, in 1865, he was the eldest of four boys who were orphaned in the early seventies and sent to live with an aunt. At the age of 19, Harvey set out with two of his younger brothers who planned on becoming cowboys. They fell in with a gang of rustlers in Wyoming, however. The leader of the gang was an ugly man with a distinctive swagger and an even more distinctive name--Big Nose George Curry. Harvey was fascinated by the man and from then on adopted the name Kid Curry.
In appearance, the Kid was much shorter than the actor who played him on television (Ben Murphy). He stood five foot, seven and a half and weighed 150 pounds. His eyes were dark brown and a heavy, "ratty looking" moustache grew under his prominent nose. Despite his appearance, the Kid was reputed to have had a fair share of success with women, perhaps because he was polite and always acted like a gentleman. In fact it was because of a girl, a pretty young miner's daughter called Elfie, that Kid Curry shot and killed his first man--Pike Landusky, her stepfather. Fifty-five year old Landusky had long been critical of the Kid's association with his step-daughter, and there was a terrible tension every time the two men came near each other. Finally Curry found Landuskey half drunk in a bar and goaded him into going for his gun, whereupon the Kid shot him down. He would kill at least seven more men before his own death.
Joining up with Butch Cassidy and the Wild Bunch, Curry participated in several train robberies as well as a prison break. Whereas Butch Cassidy was a genuinely likable man, Kid Curry was not. He was cold and ruthless, spoke little and drank a lot. By the autumn of 1901, with train robbing played out and with Butch and the Sundance Kid about to leave for South America, Kid Curry was one of the West's most hunted men. He had killed two lawmen and two cowboys the year before, and with bounty hunters, Pinkerton Agents and sheriffs following his trail of stolen bank notes he became even more vicious.
The Kid tried to reach Butch Cassidy in South America, but the heat was on and he fled across the West from Montana to Colorado. He shaved off his moustache and formed his own gang. After robbing a train on July 7, 1903, a huge posse cornered the Kid and his gang in a small canyon. There, he was wounded, and before the law could reach him, he shot himself in the temple. Drawn, haggard, in ragged clothes and a battered hat, nobody recognized him as Kid Curry. In fact Lowell Spence, a Pinkerton Agent who had been hunting the Kid, had to go to Colorado and dig up the body before an official identification could be made. Kid Curry's life had been a far cry from that of the amiable and gallant hero of television's Alias Smith and Jones.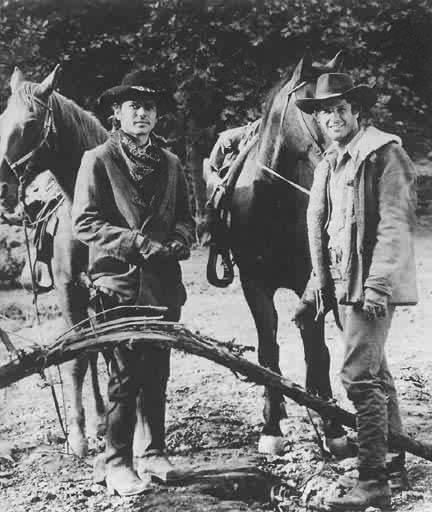 Ben Murphy, who played television's Kid Curry, was born Benjamin Edward Murphy, in Jonesboro, Arkansas. However, his father, who ran a wholesale business, moved twice while Ben was still young and he did his growing up in Memphis and Chicago. Working summers driving a pie truck in Chicago, he earned $150 a week toward his college expenses. It was a hard and dangerous job--drivers frequently got mugged during the 60 stop route and Ben's supervisor dropped dead of a heart attack, but Ben persevered.[26]
Photo Caption: Peter Deuel (left; later simplified to Duel) as Hannibal Heyes and Ben Murphy as Jed "Kid" Curry starred in the original version of Alias Smith and Jones.
Murphy's first theatrical experience came as a spear carrier in a University of Illinois production of Shakespeare's Julius Caesar and he later played the "Young Man" in Edward Albee's The American Dream. Then he left college and drove to California. There, while appearing at the Pasadena Playhouse in Life with Father, Murphy was "discovered" and signed by agent Jack Donaldson. This led to a one-line role in the Mike Nichols film, The Graduate (1967), where Ben uttered the words, "Save me a piece" (of wedding cake). He was paid $125 for one day's work and had to borrow money from his mother to pay his Screen Actors Guild dues. Murphy was, however, soon signed to a contract by Universal Studios and began appearing in episodes of several of their television series, including The Virginian, It Takes a Thief, and a couple of their made-for-television movies. On The Name of the Game (1968—1971) he was given the part of a young reporter named Joe Sample and appeared intermittently for three seasons. Then at an NBC cocktail party, a producer apologized for not using Ben more often on the show. "That's all right," Murphy replied. "I'm using my free time to look for film jobs"--and he was promptly fired.[27] As Kid Curry on Alias Smith and Jones, Murphy was often compared to Paul Newman in the Butch Cassidy film. When reporters suggested that was why he got the role, he would bristle. Series creator Larson and executive producer Huggins were both impressed with Murphy. Huggins said in an interview with TV Guide:
He's beautifully willing not to be the typical Western hero. He s even willing to be the butt of the jokes. [But the role] is better played straight than silly and sometimes Ben goes too broad.[28]
Peter Deuel was cast as Kid Curry's pal Hannibal Heyes. A loner who liked to walk in the woods while growing up in Penfield, a small one-stoplight farming community outside of Rochester, New York, Deuel was the son of the town's general practitioner and nurse. Pete was interested in acting as early as kindergarten, but did not contemplate a professional career until he was in college. He was a poor student at St. Lawrence University, but when his father saw him in the school production of The Rose Tattoo, he told Pete, "If you want to go to school, why don't you go to drama school instead of wasting my money here?"[28]
Pete was accepted into the American Theater Wing school in New York City and buckled down to serious study. After graduation he appeared in a Family Service Society play about syphilis. Then he earned his Equity card as a member of a Shakespearean company and appeared in his first film, Wounded in Action. This was followed by a stint as Tom Ewell's understudy in the road company of Take Her, She's Mine. When the show reached Los Angeles, Deuel decided to try his luck in a television series and then to return to Broadway after five years. His plan worked well, with Pete landing the role of John Cooper, Sally Field's brother-in-law on Gidget (1965-1966), after guest spots on such popular shows as Combat, Twelve O'Clock High, The Fugitive and The Big Valley. At the end of the five years, however, Deuel was offered the lead in the well-received, though short-lived, situation comedy Love on a Rooftop (1966-1967) as the newly married struggling apprentice architect David Willis, opposite Judy Carne (who would later become famous on Laugh-In). Deuel later explained why he dropped his personal five year plan to accept the role:
... It was a fine series. It was sentimental without being maudlin, although every once in a while it got a bit sticky. I don't usually like to watch gooey sentimentality myself, but sometimes it's a release. It allows you to sit and cry, and you may be crying for a lot of other things.[30]
When Love on a Rooftop was canceled after only one season, Deuel turned to films. He appeared in the two hour pilot of Robert Young s hit series Marcus Welby, MD (1969) and with Walter Brennan as a footloose young gambler named Honest John Smith who was searching for the owner of a mysterious fortune (shades of his role in Alias Smith and Jones right down to the character's last name) in the made-for-television film The Young Country (1970). He also was given his first major big screen film role as pregnant Kim Darby's husband in Generation (1969). Deuel's most satisfying and stimulating roles came as a junkie in the pilot episode of Universal's The Psychiatrist ("God Bless the Children") in 1970 and as a patient who desperately needs a kidney in The Interns ("The Price of Life"), also in 1970. Deuel claimed that "these roles made everything else seem dull by comparison."[31] Despite Deuel's preference for serious parts, he seemed comfortable as the wide-eyed safecracker Hannibal Heyes, trying to go straight in the dying days of the Old West in the comedy-adventure series, Alias Smith and Jones:
I was footloose and fancy free at Universal before this came along. Still, if I have to make a TV series I prefer being in the great outdoors and around horses than playing a lawyer, say, in a courtroom.[32]
However, comparisons that the press made with Butch Cassidy and the Sundance Kid annoyed Deuel:
I frankly resented the constant needling by the press every time I did an interview. It was always the first question asked, and in my opinion a moot point.[33]
What made the interviews even more difficult for Deuel (and Murphy, as well), was the fact that Universal wanted to divorce the series from the movie. They tried to play down the similarity which, Deuel claimed, began and ended with the fact that "it was no longer profitable for two guys to continue as outlaws." Deuel later mused,
It would be funny if the series runs a couple of years, then the film is rereleased, and the new audience that hasn't seen the movie will say "Butch Cassidy and the Sundance Kid" resembles "Alias Smith and Jones."[34]
Alias Smith and Jones debuted with a two hour film on January 5, 1971. Written and produced by former singer Glen A. Larson (who would later produce such hit series as Switch, 1975-1978; B.J. and the Bear, 1979-1981; and The Fall Guy, 1981-1986), the pilot film laid the plot groundwork for the series. As the opening narration (written by Glen Larson and Matthew Howard) explains:
Nobody can really pinpoint just when that period called the West ended. Maybe it was when the last outlaws were captured or put out of business. If so, this story is about the end of the West.

This was America's frontier at the turn of the century... indoor plumbing and telephones, automobiles and nickelodeons.

The West was getting to be downright comfortable for everyone. Well, everyone but outlaws....

(Shot of Heyes and Curry riding hard.)

These two gentleman had gained great notoriety for their crusade to keep the banks of the West open around the clock. They were terribly successful. Something had to be done... the days of the outlaw were numbered. But they hadn't given up yet.
Hannibal Heyes and Jed "Kid" Curry, a pair of notorious outlaws, are offered amnesty by the governor of Wyoming Territory if they will bring in a vicious desperado and his gang. They later discover, however, that their amnesty (offered through a lawman friend, Sheriff Tom Trevors) has several other strings attached. They must change their names and stay out of trouble for a year (with only Trevors and the governor aware of the agreement). As the concluding narration explains:
So... for the following year, the West's two most-wanted men would lead model lives... lives of temperance-moderation-and tranquility. Hannibal Heyes and Kid Curry would cease to exist.

In their places would ride two men of peace.... Alias Smith and Jones.
In addition to Deuel and Murphy the film featured former Virginian James Drury as Trevors, F-Troop alumnus Forrest Tucker as a deputy, Susan Saint James as the romantic interest, and veteran Western performers Jeanette Nolan, Earl Holliman and John Russell in supporting roles.
On January 21, 1971, the weekly hour-long version premiered with an episode entitled "The McCreedy Bust." The show, which drew a respectable viewing audience, relates the efforts of Smith and Jones to recover a bust of Julius Caesar stolen from a wealthy rancher (McCreedy) by a Mexican grandee. The pair are successful and paid a $10,000 fee, only to lose it back to McCreedy in a clever poker ruse. It seems that according to Hoyle, a straight does not beat two of a kind in draw poker unless specifically agreed to by the players in advance. (Hoyle's Book of Games was usually followed in the latter part of the nineteenth century. This ploy had been used years earlier on Maverick when Samantha Crawford used a pair of nines to beat Bret's straight in "According to Hoyle.")
The duo do ultimately get the last laugh, however. Heyes (alias Smith), an expert poker player, bets McCreedy $20,000 that he can take any 25 cards dealt to him at random and make five pat poker hands out of them. After he wins the bet, he explains to McCreedy that it works nine out of every ten times. Then, to add insult to injury, the Mexican grandee and his men show up and steal all the money as well as the bust of Caesar. Burl Ives was delightfully robust as McCreedy, Cesar Romero was fine as the Mexican grandee, and Edward Andrews turned in a typically solid performance as a bemused banker friend of McCreedy's. Most critics applauded the show. Respected critic Ben Gross of the New York Daily News (January 22, 1971) wrote:
A rarity came to TV last night... a new Western series, "Alias Smith and Jones," over ABC.... As oatburners go, it's a pretty good one, certain to please the aficionados and--who knows?--because it is invested with a light touch and a sense of humor, it may even snare a sophisticate or two....

The new show... has all the expected conventional elements: the raw frontier town, the lawmen and the outlaws, the gamblers, the stage coach, the saloon with its garish girls, etc. etc. In other words, present are all of the atmosphere, the settings and the props that one associates with this escapist form of entertainment....

... Pete Duel and Ben Murphy give picturesque performances as the two former badmen now trying to go straight.... What I especially liked about the opening installment was its vein of comedy buried beneath the obvious melodrama of the action.
Tom Mackin of the Newark, New Jersey, Evening News (January 22, 1971) echoed Gross' sentiments:
There was a lot to like about "Alias Smith and Jones" the light-hearted western brought in by ABC last night. It teetered precariously on slapstick throughout the hour, but it managed to stay honest, retain its sense of humor and even come up with a new plot twist or two.

... It was a droll, fast-moving episode, well acted by a particularly adept cast.
Cleveland Amory was not as lavish with his praise in TV Guide, but did have to admit he liked the show in his March 6, 1971, review:
One thing you'll have to grant this show. It doesn't promise very much... but it's got a terrific premise....

Another thing you'll have to grant is that the two principals are fine actors.... [The show] also has a plethora of guest stars....

... But that is about all we can say.
At the beginning of the third season, Variety (September 20, 1972) was still singing the show's praises:
The operative word for "Smith and Jones" is amiable. While they usually carry guns, they rarely fire them. ... While their frontier world is largely populated by the usual assortment of toughs and macho types, the whole thing is played for laughs.
Between the first episode of January 1971, and episode number 38, which marked the opening of the series' third season, however, tragedy had befallen the show. Pete Duel (he had changed the spelling for simplicity) had embarked upon a television career with high expectations. The longer he remained in Hollywood, however, the more frustrated he became. He thought most of the scripts he was required to do were garbage and he had developed a reputation for fighting with directors. Duel had attempted to change the system by running for office in the Screen Actors Guild, but lost. As biographer Tim Brooks explains:
Usually clad in jeans, [Duel] was a political activist working for McCarthy in '68 and caring about ecology--he was a true child of the '60s. Thousands of young hopefuls would have given their eyeteeth for his success, but Duel always wanted more, both as an actor and as a person.[35]
Still, Duel's apparent suicide came as a shock. It was New Year's Eve, 1971. He had been filming an episode of Alias Smith and Jones earlier in the day. That evening he read the script for the next show and watched a completed episode of the series. Duel was with his girlfriend, who later said nothing seemed wrong, although he had been drinking and said that he hated the show he had watched. Late that night, she heard a gunshot from the next room, and ran to find him sprawled on the floor. Despite all the evidence to the contrary, many friends, as well as fans, felt that it must have been a terrible accident--or murder. Police ruled Duel's death a "probable suicide" and closed the case. It was an ending unlike any ever contemplated for the popular lighthearted series of which he was a star.
With four more episodes needed to complete the season, the role of Joshua Smith had to be quickly recast. Roger Davis, who had been doing the show's opening and closing narration, was chosen, and a partially completed episode, "The Biggest Game in the West," was finished with Davis redoing scenes that had already been filmed by Duel. No explanation was made in the storyline, with Davis taking over the role as if he had been playing it for the entire run of the show (in much the same way that Dick Sargent had taken over for Dick York in Bewitched in 1969).
Davis, a native of Louisville, Kentucky, made his television acting debut in 1962 as Private Roger Gibson, a callow young driver, on ABC's World War II drama The Gallant Men. Later he appeared in ABC's daytime serial Dark Shadows as Peter Bradford (Maggie's love interest when she is transported to the past). The opportunity for his involvement with Alias Smith and Jones undoubtedly dates to his selection as the amiable conman Stephen Foster Moody, in The Young Country. That 1970 made-for-television film was written, directed and produced by Alias Smith and Jones producer Roy Huggins. Aaron Spelling also used Davis in the 1971 beach-bum "buddy" picture River of Gold (with Guns of Will Sonnett's Dack Rambo).
In addition to his work as narrator, Huggins also gave Davis a guest-starring role as the title villain in an earlier episode of Alias Smith and Jones called "Smiler with a Gun." During that episode, Davis, as gambler, con-artist and ladies man Danny Billson, teams up with Duel and Murphy to help an old prospector (Will Geer) mine gold. The night before they are set to return to civilization with the fruits of their joint labor, Billson sneaks off with the gold and leaves the other three with no horses and little water.
Photo Caption: Roger Davis (left)and Ben Murphy finish the series as Alias Smith and Jones, from 1972 on.
The Kid and Heyes survive the trek across the desert, but the old prospector dies and the two vow revenge on their former crony. They finally find Billson running a saloon. After refusing to turn over the proceeds from the sale of the gold to Heyes and Curry, Billson goads Curry into a showdown gunfight. In front of the town sheriff's eyes, Curry is forced to kill Billson in self-defense. (This is one of the few instances in the 49 episode series that Curry, who usually has his gun out and leveled before his opponent can even clear his holster, actually kills anyone.) The repartee among the three worked well, especially during the first half of the story when all are pals. This, as well as Davis' physical stature and easy-going manner, obviously impressed Huggins. Perennial television game show host Ralph Story replaced Davis as narrator and several new segments were filmed for the opening montage showing Davis as Hannibal Heyes.
The quality of the series did not suffer noticeably when Davis took over for Duel, but this was as much the result of good scripts and supporting casts as it was the efforts of its two stars. The series bore the indelible mark of executive producer Huggins, who wrote most of the stories under the pseudonym John Thomas James. Huggins, who was one of the creators of Maverick in 1957 and would serve as producer and occasional writer for the first three seasons, loved clever stories about con games, poker, gambling, switches, land swindles and frauds, horse racing and the like, incorporated such plot devices into many of the episodes of Alias Smith and Jones. "The McCreedy Bust," "Exit from Wickenberg," "The Night of the Red Dog (in which a variation on poker called Montana Red Dog plays a significant role in the story), "The Men That Corrupted Hadleyburg," "The Biggest Game in the West," "Which Way to the O.K. Corral?" "Don't Get Mad, Get Even," and "What's in It for Mia?" all feature poker or some other card game like blackjack. (Heyes had a real knack for exposing cheating of all kinds--especially marked cards.) Jewel switches are central to the plots of "A Fistful of Diamonds" and "Never Trust an Honest Man," and money is cleverly switched in "Jailbreak at Junction City," "The Men Who Broke the Bank at Red Gap," "Don't Get Mad, Get Even," "The Girl in Boxcar Number Three," and "What's in It for Mia?" while gambling on horse races is essential to the story of "The Great Shell Game." A land swindle is employed in "Dreadful Sorry, Clementine" and "The Root of It All" concerns a search for buried treasure.
Huggins, who was also involved in the production of such hit series as The Fugitive (1963-1967), Run for Your Life (1965-1968) and The Lawyers segments of The Bold Ones (1969-1972) and would later produce Jim Garner's television series The Rockford Files (1974-1980), especially favored stories where a crook was beaten at his own game. Notable among episodes with such a theme were "Dreadful Sorry, Clementine," "The Wrong Train to Brimstone," "The Great Shell Game," "A Fistful of Diamonds," "The Man Who Broke the Bank at Red Gap," "The Men That Corrupted Hadleyburg," "Which Way to the O.K. Corral?" "Don't Get Mad, Get Even)" and "What's in It for Mia?"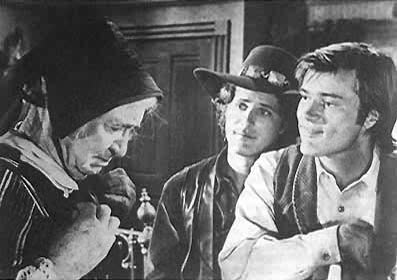 Photo Caption: Walter Brennan (left), in another of his patented character roles, appeared with Murphy (center) and Deuel in several episodes of Alias Smith and Jones.
Another Maverick-type Huggins touch was the inclusion of likable and interesting con-artists who would be used in several episodes. Among such characters were Silky O'Sullivan, a lovable retired con-artist (a tour de force for Walter Brennan), in "The Day They Hanged Kid Curry" (in which Brennan also appears in drag as Curry's grandmother), "Twenty-One Days to Tenstrike" and "Don't Get Mad, Get Even"; "Mac" McCreedy, a cagey, stingy rancher (Burl Ives at his droll best), in "The McCreedy Bust," "The McCreedy Bust--Going, Going, Gone" and "The McCreedy Feud" (each episode also featured Cesar Romero as Señor Alvarez, a charming and crafty Mexican grandee--each episode being a continuation of the earlier stories); "Soapy" Sylvester, a distinguished and suave former confidence man, much like Silky Sullivan only considerably more polished (a witty role for Ben Casey alumnus, Sam Jaffe), in "The Great Shell Game" and "A Fistful of Diamonds"; Winfield Fletcher, a tightfisted, seedy, scheming banker (a superb characterization by Rudy Vallee), in "Dreadful Sorry, Clementine" and "The Man Who Broke the Bank at Red Gap"; and the persistent, obnoxious and slightly dishonest detective Harry Briscol of the Bannerman Detective Agency (J.D. Cannon giving a slick and professional performance), in "The Wrong Train to Brimstone," "The Legacy of Charlie O'Rourke," "The Reformation of Harry Briscol" (in which Briscol actually steals $50,000 but is convinced by Heyes and Curry to return it) and "The Long Chase."
Women con-artists were plentiful too--a la Samantha Crawford, Melanie Blake, and Modesty Blame of Maverick. The best remembered is Clementine Hale (a delightful portrayal by future Emmy and Academy Award winning actress, Sally Field, fresh from three years as television's Flying Nun), although she appeared in only two episodes, "Dreadful Sorry, Clementine" and "The Clementine Incident." (Clementine had the only photo in existence of Curry and Heyes and used it to get them to help her with various schemes.) Appearing more often was Georgette "George" Sinclaire, another beautiful schemer who doubled occasionally as a saloon singer (a showcase for the multitalented Michele Lee), in "Which Way to the O.K. Corral?," "Don't Get Mad, Get Even," and "Bad Night in Big Butte."
Another recurring character was the Mexican bandit El Clavo, who was featured in two episodes, "Journey from San Juan" and "Miracle at Santa Marta." Nico Minardos was cast as the bandito in the first El Clavo episode, which set off a controversy involving "reverse discrimination" in the entertainment world that was to have consequences far beyond the series itself. The ethnic minorities advocacy group Justicia voiced their strong objections to ABC regarding their selection of Minardos, stating that a Mexican American should have been cast in the role. The company, however, stood its ground and Minardos played the role. The series' producers felt the episode was so well done and the character of El Clavo so interesting that a sequel was written for the following season. They intended to have Minardos repeat his role.
However, the producers were notified by ABC that they preferred that the casting be revised, and, in compliance with this request, Minardos was dropped from consideration and another actor, one of Latin origin, was engaged for the role originally intended for Minardos. Minardos complained to both ABC and the Screen Actors Guild. The associate national executive secretary of SAG wrote a strongly worded letter to ABC executives objecting to their treatment of Minardos and charging them with reverse discrimination. The landmark statement read in part:
It is a vital principle involving actors which concerns us--that is the right of all actors to compete and play roles for which they have the training, background and experience. The essence of minority hiring lies within that statement also. All actors should have the right to compete for roles. If the premise is not correct, minority groups of actors are doomed to portray only their ethnic minority roles....

The concept that Italians play Italians, Mexicans play Mexicans, Greeks play Greeks and they all play nothing else is not what "fair employment"; was intended to achieve. The inconsistency of such a hiring practice with both the goals of fair employment and the essence of the actor's craft is painfully clear.[36]
What the Guild was saying was that under such a narrow interpretation of minority rights, Yul Brynner could not have portrayed the King of Siam nor Anthony Quinn, Zorba. It was wrong, in effect, to penalize one minority to help another. The ultimate result was that Minardos was reinstated in the role, a precedent was established and viewers were treated to another entertaining episode of Alias Smith and Jones.
Another recurring character was Sheriff Tom Trevors who appeared in the two hour pilot, and in the episodes "Shootout at Diablo Station," "The Day the Amnesty Came Through," and "Witness to a Lynching." Lawman's John Russell played Trevors in all of the episodes except "Shootout." Inexplicably, Mike Road was Trevors in that episode, while Russell appeared in a bit role as a deputy marshal in "Which Way to the O.K. Corral?" Russell was perfect as the stern-faced lawman who knew Smith and Jones' real identities as well as the governor's conditional offer of amnesty. (Road also had prior experience playing a lawman--as Marshal Tom Sellers in Buckskin.)
During their adventures, Joshua and Thaddeus encounter more than their share of beautiful women. Some are vulnerable, like Heather Menzies in "The Girl in Boxcar Number Three"; some are treacherous, like Diana Muldaur in "The Great Shell Game"; some are greedy, like Judy Carne in "The Root of It All"; some are motherly, like Vera Miles in "The Posse That Wouldn't Quit"; some are ambitious, like Jane Merrow in "The Reformation of Harry Briscoe"; some are sexy, like Sheree North in "The Men That Corrupted Hadleyburg"; some are schemers, like Ida Lupino in "What's in It for Mia?"; some are pawns of men they love, like Shirley Knight in "The Ten Days That Shook Kid Curry"; some are devoted to their fathers, like Brenda Scott in "Witness to a Lynching"; some are dominated by an older brother, like Laurette Spang in "Only Three to a Bed"; and some are husband hunters, like Jo Ann Pflug in the same episode.
Three of the most interesting and diverse women appear in "Six Strangers at Apache Springs": Carmen Mathews plays a spunky widow who hires Smith and Jones to dig up the gold she and her husband hid from marauding Indians; Patricia Harty is the spoiled wife of an Indian agent who neither likes the West nor appreciates her husband's courage and dedication to duty; and Sian Barbara Allen portrays a quiet but devoted evangelist who has been duped by a crooked gambler. The lives of each are changed for the better by Smith and Jones.
In their attempts to "go straight," Curry and Heyes engage in a variety of occupations, although each episode usually involves them in some sort of gambling or con game. Some of their jobs are as mundane as prospecting for gold in "Smiler with a Gun" and "The Night of the Red Dog," herding cattle (or rounding up strays) in "The Reformation of Harry Briscoe," "Journey from San Juan" and "Bushwhack!" or capturing and breaking wild horses in "Three to a Bed." On other occasions they engage in more dangerous work, like transporting money for a lawyer in "The Girl in Boxcar Number Three" and protecting two government witnesses in "Witness to a Lynching." In "Something to Get Hung About," they start out playing Cupid and end up solving a murder and saving an innocent man from the gallows. But Curry and Heyes always try to stay on the "right" side of the law. As they explain to a would-be counterfeiter and his daughter in "What's in It for Mia?":
CURRY: We try to avoid violence at all times, not to mention anything illegal.

HEYES: Sometimes shady maybe, but never illegal.
Another enjoyable feature of Alias Smith and Jones is the use in many guest and supporting roles of the stars of previously canceled television Westerns. It is a real pleasure to see such veterans of the video range as Neville Brand of Laredo (in "Shootout at Diablo Station" and "Which Way to the O.K. Corral?"), Peter Breck of Black Saddle and The Big Valley (in "The Great Shell Game"), the aforementioned Walter Brennan, Pat Buttram of The Gene Autry Show (in "Bad Night in Big Butte"), Rory Calhoun of The Texan (in "The Night of the Red Dog"), Rod Cameron of State Trooper (in "The Biggest Game in the West" and "High Lonesome Country"), David Canary of Bonanza (in "The Strange Fate of Conrad Meyer Zulick"), Robert Colbert of Maverick (in "Twenty-One Days to Tenstrike"), Jackie Coogan of Cowboy G-Men (in "Which Way to the O.K. Corral?" "McGriffin" and "Dreadful Sorry, Clementine"), Glenn Corbett of The Road West (in "Twenty-One Days to Tenstrike" and "Bushwhack!"), Andy Devine of Wild Bill Hickok (in "The Men That Corrupted Hadleyburg"), James Drury of The Virginian (in "The Long Chase"), Buddy Ebsen of Davy Crockett and Northwest Passage (in "What s in It for Mia?" and "High Lonesome Country"), Jack Elam of The Dakotas and Temple Houston (in "Bad Night in Big Butte"), Paul Fix of The Rifleman (in "The Night of the Red Dog" and "Only Three to a Bed"), Earl Holliman of Hotel de Paree in ("The Day They Hanged Kid Curry"), Jack Kelly of Maverick in ("The Night of the Red Dog"), Lee Majors of The Big Valley (in "The McCreedy Bust--Going, Going, Gone"), Cameron Mitchell of High Chaparral (as Wyatt Earp in "Which Way to the O.K. Corral?"), George Montgomery of Cimarron City (in "Jailbreak at Junction City"), Slim Pickens of The Outlaws and Custer (in "Exit from Wickenberg," "The Man Who Murdered Himself," and "The Strange Fate of Conrad Meyer Zulick"), Pernell Roberts of Bonanza (in "Exit from Wickenberg" and "Twenty-One Days to Tenstrike"), the aforementioned John Russell and William Smith of Laredo (in "What Happened at the XST?") and Chill Wills of The Rounders (in "The Biggest Game in the West").
Roy Huggins kept many otherwise unemployed television actors and actresses busy. In addition to the Western stars and others already mentioned there were Jack Albertson of The Thin Man (in "Jailbreak at Junction City"), Jim Backus of I Married Joan and Gilligan's Island (in "The Biggest Game in the West"), John Banner of Hogan's Heroes (in "Don't Get Mad, Get Even"), Joseph Campanella of Mannix (in "The Fifth Victim"), Judy Carne, Duel's former costar in Love on a Rooftop, and Tom Ewell of The Tom Ewell Show (both in "The Root of It All"), Jack Cassidy of He and She (in "How to Rob a Bank in One Hard Lesson"), Wally Cox of Mr. Peepers (in "The Men that Corrupted Hadleyburg"), Howard Duff of Felony Squad (in "Shootout at Diablo Station"), Joe Flynn of McHale's Navy (in "The Night of the Red Dog"), Alan Hale of Gillian's Island (in "The Girl in Boxcar Number Three"), Diana Hyland of Peyton Place in "Return to Devil's Hole"), Dean Jagger of Mr. Novak and John Kerr of Peyton Place (both in "Only Three to a Bed"), Mark Lenard of Star Trek (in "Exit from Wickenberg"), Patrick Macnee of The Avengers and Juliet Mills of Nanny and the Professor (both in "The Man Who Murdered Himself ), John McGiver of The Patty Duke Show (in "Witness to a Lynching"), Robert Morse of That's Life (in "The Day They Hanged Kid Curry"), Diana Muldaur of McCloud (in "The Great Shell Game"), Arthur O'Connell of Mr. Peepers (in "Bad Night at Big Butte"), Ann Sothern of Private Secretary and The Ann Sothern Show (in "Everything Else You Can Steal"), Craig Stevens of Peter Gunn (in "Miracle at Santa Marta"), William Windom of The Farmer's Daughter (in "The Wrong Train to Brimstone"), and Jane Wyatt of Father Knows Best (in "The Reformation of Harry Briscoe"). All in all, Alias Smith and Jones provided viewers with a veritable "who's who" in television land.
An analysis of one of the more meaningful and interesting adventures is in order. "The Bounty Hunter" features guest star Louis Gossett as Joe Sims, "bounty hunter--professional." Sims captures Curry and Heyes on the trail and though they try to talk him out of it, he declares his intention of turning them over to the nearest sheriff for the reward:
SIMS: Any description on any outlaw worth more than two thousand dollars, I got locked up in my head down to the last button on his shirt. And I don't just go by one description on a man. I compare different ones, talk to people, ask questions. Yeah, I'm workin' all the time. That's how I was able to spot you two right off. ... I ain't got nothin' against you personally, but like I said, I'm a bounty hunter--professional. But for twenty thousand dollars for the two of you, gonna be the biggest score I ever made...

HEYES: How'd you get in this line of business, Joe?

SIMS: Well, I'll tell ya. Ain't much a black man can do these days. Before the war, I was a slave. Then, afterwards, I just drifted West and the further I went, the further I got away from the way things used to be back home. Sometimes, that's good. Sometimes, that's bad. Depends on the kind of people you run into. Nobody pay a black man more'n room and board and that's if he can get work. In the old days, if ya got sick, why the master, he'd have to take care of ya. Now days if you get sick, you just out of luck. That's why I became a bounty hunter, for the money. Black man ain't gonna be out of luck if he got money.
Curry and Heyes are able to escape when a rattlesnake spooks Sims' horse. In the chase that follows, Sims accidently shoots and kills the horse of a white cowboy and he and his white cronies prepare to string Sims up. After saving Sims' life, by chasing off the wouldbe lynchers with a volley of gunfire, Curry and Heyes continue on their way, content that they have done the right thing. Shortly thereafter, Sims ambushes Curry and Heyes and again takes them prisoner. When questioned about his lack of gratitude, Sims explains he did it for the money.
HEYES: Joe, I hate to say this but I don't think you're showin' the proper gratitude.

SIMS: What's that?

CURRY: Don't you know why we did this?

SIMS: Tell ya the truth, that's what's been puzzlin' me. Seems kinda stupid ta me.

HEYES: Stupid!?!

SIMS: Yeah sir! Don't know why ya wanna save my skin, when ya could have saved your own skins instead, especially since I'm dead set on taken ya in. Now, don't that sound kind of stupid ta you?
A little farther along the trail, three white drifters stop Sims and take his prisoners from him so that they and not he can collect the reward. Meanwhile, Sims walks to the nearest ranch, buys another horse and gun and is able to recapture his prisoners along with two of the three men. The third one, however, sneaks back to their camp that night and is about to kill Sims. Curry, who has gotten loose from his ropes, shoots the drifter and again saves Joe s life. Still, Joe is set on turning Curry and Heyes in for the reward:
CURRY: You know what you are? You are a miserable ingrate! You know that? He was gonna kill you. We have now saved your life twice. Now, how can you do this ta us?

SIMS: Well, don't think it's so easy! You're takin' all the pleasure I'm ever gonna get outta spendin' that twenty thousand dollars. Every time I think of the way you saved my life, ain't gonna be no fun spendin' that money, no fun at all. In fact, I may just invest it instead.
Later, the story becomes more serious:
HEYES: Just tell me one thing. Why are you so all fired ornery?

SIMS: Nothin' I can do about that. Some black folks, ya know, figure they owe white folks a lotta harm for all what they done. I don't feel that way. I don't feel I owe 'em any harm. I don't feel I owe 'em anything else either. I guess that's why I don't know nothin' 'bout gratitude. It been taken outta me a long time ago.

HEYES: That's sad, Joe. That's a sad way ta be.

SIMS: I guess...
Another group of whites come upon them. Since their leader feels that it is not the place of a black man to arrest white folks, he orders two of his men to take Curry and Heyes into town to check their identities and shoots Sims in the back as he rides away. Curry and Heyes escape, but arrive too late to save Joe, who dies in their arms. They bury him, but decide to report Joe's murder to the nearest sheriff, even at the risk of their own safety. They had become fond of Joe and feel it is the least that they can do for him now, although they know in their hearts that, had he lived, Joe would have turned them both in for the reward money. This excellent story by John Thomas James (Huggins) contains both humor and tragedy. It is both a comment on the plight of the black man at the end of the Civil War and on his contemporary problems. It represents Alias Smith and Jones at its best.
In the final episode, "Only Three to a Bed," it appears that our two heroes are at last going to find themselves wives and settle down. Alas, as in each of the preceding 48 episodes, they escape the clutches of respectability at the last minute. Still, they had managed, with great difficulty, to trod the "straight and narrow" for nearly three seasons. Smith and Jones deserved a better fate than cancellation before their amnesty came through. The producers should resurrect this fine series for a special television film (a la Gunsmoke) and finally resolve this problem once and for all. (Of course, then they would not be "Smith" and "Jones" anymore.) One can heartily recommend this series in its syndicated reruns.
************************************************************
24. Quoted in Parrish and Pitts, Great Weatern Pictures, p. 46.

25. Leonard Maltin, TV Movies and Video Guide (1991 edition), p. 154.

26. Arnold Hano, "The World's Greatest Love," TV Guide (February 19, 1972), p. 22.

27. Ibid.

28. Quoted in Ibid, p. 23.

29. Quoted in TV Guide (May 15, 1971), p. 30.

30. Quoted in Ibid.

31. Quoted in Kay Gardella, "Pete's Not Convinced He's Lucky," Sunday News (April 25, 1971), p. S20.

32. Quoted in Ibid.

33. Quoted in Ibid.

34. Quoted in Ibid.

35. Brooks, Directory of TV Stars, P. 244.

36. Quoted in Variety (August 16, 1972), p. 1, 40.


---

Back to Articles List