PETE CLOSES RANKS WITH BOBBY, DAVID, AND DONNY
by John Walker
Chicago Tribune TV Week, October 16, 1971
---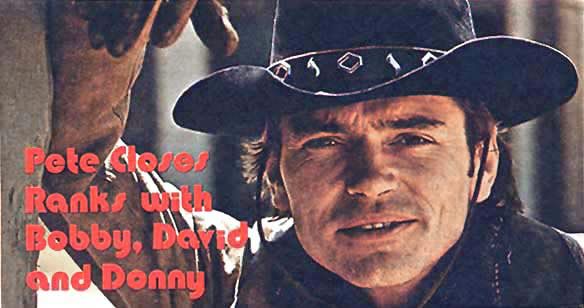 Pete Duel is pleasantly resigned to his current status as idol of the bubblegum set and television star. He didn't plan on achieving either distinction.

It all happened because of Alias Smith and Jones, ABC-TV's comic western that features Duel [Hannibal Heyes, alias Smith] and Ben Murphy [Kid Curry, alias Jones] as outlaws who have been promised amnesty for past crimes if they go straight. Their cavorting and clowning, a la Paul Newman and Robert Redford in "Butch Cassidy and the Sundance Kid," provide the laughs.

The show started as a Movie of the Week and sneaked in the side door as a weekly series as a midseason replacement last January. It scored well enough in the ratings to be asked back this fall, thereby giving the kids two new heroes to swoon and sigh over every Thursday night.

If the proof of stardom with young viewers is coverage by teen fan magazines, Pete and Ben have really made it. There they are, sharing the fan-mag covers with David Cassidy, Bobby Sherman and Donny Osmond, smiling next to enticing coverlines that promise savory details inside if you'll just plunk down your quarters and turn the page.

Examples: "Duel and Murphy: You Have the Key to Their Hearts" [Teen Life]; "The Private Lives of Pete and Ben" [Teen World].

"They're not mobbing us yet," says Duel, reflecting on his new-found fame. "But we're recognized by just about every kid under 18. Some of the reactions are touching, some just cute. Sometimes a young girl just kind of comes unglued in front of you. That's a phenomenon we're all aware of, but to have it happen to you, that's quite an ego thing."

Pete doesn't take the ego thing seriously, knowing that teenyboppers' screams have little or nothing to do with acting talent. He sees the adulation as a kicky extra to go with all the money he's making, a fringe benefit he didn't expect.

The first time he glanced at a magazine rack and saw his picture adorning all those fan mags he was shocked, he says. He really knew something was up when the mags began granting him the ultimate recognition--reference to an inside story with the use of only his first name.

"I looked at that and said, 'My God, so this is the way the wind has been blowing.' But I'm able to accept it and enjoy it. That's the only way to handle it, unless you want to become a recluse. Besides, it's only a passing phase. Five years from now, I don't want to look back and say, 'Why didn't I get into that?' Now I'll be able to look back and say, 'I enjoyed it and played the role to the hilt.'"

But there's that problem of being a television star. At 30 [or 28, depending on whom you believe] (CJC's note: actually 31), Duel has finally pulled himself above the ranks of also-ran television actors. He won't be remembered for Gidget or Love on a Rooftop, but Alias Smith and Jones is bound to give him the success stamp that goes with a winning series. That's an ironic twist for an actor who fell into fame thru a contract obligation.

"I didn't want to do the series at first," says Duel. "I was fighting with myself. I didn't want millions of people to see me do a poor job in a silly western. Then I accepted it and committed myself to it. And I've had a ball."

Most of Duel's reluctance about tackling Smith and Jones stemmed from his success last year in guest roles on television dramatic series. He had four or five heavy roles in a row, and he enjoyed the luxury of picking parts and developing new characters.

"For a year and a half I was doing some of the best parts on television. It was a golden period, a magic time. It was a stimulating thing, and then to be grabbed by the back of the neck and put in a TV series."

But the series worked, and now Duel is stuck with all of those paychecks and screaming teens. He may have wished Smith and Jones an early death last fall, but the obligation is looking pretty good now.

"I'm not so sure I'd want it to fold. You develop an affection for the crew and the show. I have affection for the character of Hannibal Heyes. I enjoy the little time trip I take every time I'm on the back lot. I can sit on a porch with a horse tied up at the rail and relax and take a trip back to a time when it was dangerous, but there was a lot of peace."
---
Back to Articles List