KIM DARBY/BRUCE DAVISON: FREE RIDE TO A LOVER'S EDEN!
by Susan Cross
Movie Mirror, October 1970
---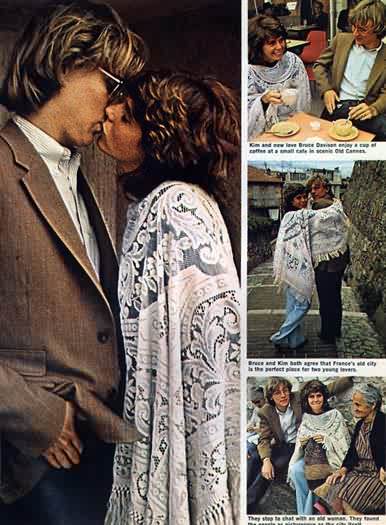 When Kim said, "I do" to James Westmoreland, she didn't know that soon afterwards she'd be meeting the man of her dreams!
Just three short months after her marriage to Jim Westmoreland, Kim Darby left him in Los Angeles and took off for Europe with blond and boyish Bruce Davison, her co-star of "Strawberry Statement".
They came first to Cannes to present their picture at the film festival. Here, their constant kissing and intermittent hugging prompted one casual observer to remark that they resembled newlyweds on a honeymoon. In theory, this might have been the case, if Kim had not already had her honeymoon earlier in the year.
What of her marriage to Westmoreland, whom she met and wed after a hasty three-week courtship last February?
"I'd rather no talk about that. I realize now that you just can't rush into things in a hurry. But I guess I'm a very impulsive person," Kim said.
We were sitting in the bar of the Hotel Carlton in Cannes. Bruce was beside her, and every now and then she would turn to him with a smile that solicited a grin of assurance from him.
"What's important is our future together--Bruce's and mine, and that of my two-year-old daughter, Heather," she continued.
---
Skipping over more romantic statements by Kim and Bruce and on to mentions of Pete....
It has indeed been quite a year for Kim. She made three films: "Generation" with Peter Deuell [sic], her ex-boyfriend, "Norwood" with Glenn Campbell and "Strawberry Statement" with current love Bruce Davison.
Her private life has been equally as frenetic as her career. Within a year and a half, she divorced her first husband, Jim Stacy, had a baby, fell in love with Peter Deuell [sic], married Jim Westmoreland and left him for Bruce Davison.
Most of the rest of the article, which is over 5 pages in total length (that is, exceptionally long for a movie magazine article), discuss Kim's unhappy childhood. The implication is that this is her reason for her romantic instability. There are also two more pages of photos that I didn't scan. Bruce Davison eloped with Jessica Walter (better known in the AS&J world as Louise Carson of "Everything Else You Can Steal") in ca. 1972; they have long since divorced.
---
Back to Articles List