WE LOVE YOU BECAUSE...

FAB 208 1973

---

GEOFFREY DEUEL
We love you because just to look at you makes our hearts melt. Because you're so tall and lean and good-looking. Because your eyes look friendly and warm and your smile is like a secret happiness we're invited to share. We love you because we loved your brother Peter so much--he gave us so many happy hours in Alias Smith and Jones--and because you're just enough like him to remind us--but different too, with your own special niceness.
---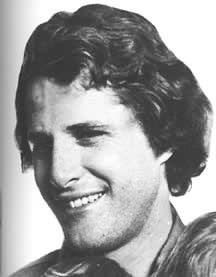 BEN MURPHY
We love you because you're the best of the American dream. Because you're cornfields and wide open spaces, horse-riding and pork 'n' beans by the camp-fire under the stars. We love you because you're the best of Paul Newman and Ryan O'Neal rolled into one. Because you're untidy curly hair and a shy smile, long legs and gentle hands. Because you're part of the spirit of the old West mixed with the spirit of right now. You're Deadwood and Manhattan, Boot Hill and Las Vegas all at once, neon and gas-lamps. We love you because you're good, right and just and we're on your side.

---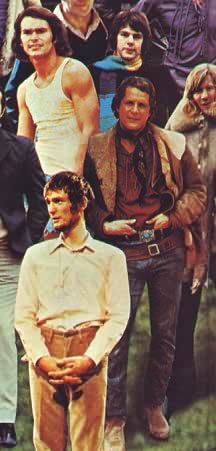 Photo at Right: Portion of the back cover of the FAB 208 1973 book
---
Back to Geoff Articles List or Ben Articles List