PETE DUEL'S SECRET LIFE
flip, October 1971
---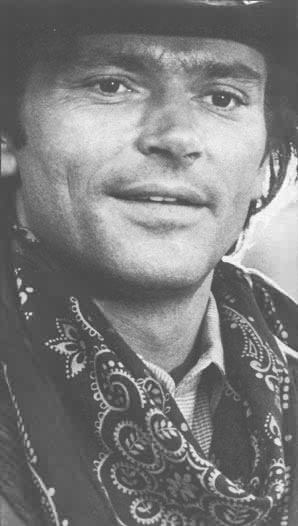 If you want to see a lot of Peter Duel, the thing to do is to watch a lot of television. Besides starring in "Alias Smith and Jones," he has starred in "Love on a Rooftop," which is being shown in reruns in many areas, plus he had a featured role in "The Psychiatrist," which is also being rerun in some areas.

In addition to all of that, he's done guest shots on more shows than anyone can remember. So if you spend enough time in front of the TV, you should see a lot of him.

However, if you want to see him in person, you just might have a problem! Peter leads a very secret life and is rarely seen anywhere except when he's working.

He lives in a cozy little house in the Hollywood Hills and doesn't leave it often. He doesn't like big fancy restaurants and seldom goes out to eat. On the rare occasions that he does go out for food, it's usually to some small place where you'd never expect to find anyone of any importance.

Just about the only thing that gets him out in public is ecology. It's the one thing, other than acting, that he's really concerned about.

He isn't associated with any particular ecology group, but he is willing to do whatever he can. For example, he recently narrated a half-hour television documentary called, "Ah, Man, See What You've Done." It was shown on a Sunday afternoon and concerned the pollution of the waters around the U.S. and Hawaii.

But it does take something as important as ecology to get him out into the world. Even when a studio wants him to do things to publicize his shows, he often manages to get out of it.

He's just a private sort of person who feels the world sees enough of him off the screen and doesn't need to peek into his private life, too.

---
Back to Articles List