LOVERS ON ROOF-TOP: JUDY CARNE, PETER DEUEL

TV News (Indianapolis, IN), March 11, 1967

---

One decided on acting as a career early, the other did not
For the many among us who can remember those early struggling years of married life (and, for some, even after many years its still a struggle to make ends meet), there's a tv comedy series tailor-made to bring back memories.
That would be Love On A Roof-top, seen Thursday nights on Channels 7 and 13, and Friday nights on Channel 49.
It's all about Julie and Dave Willis, played by Judy Carne and Peter Deuel, who are young newly-weds struggling to get by on his $85-a-week apprentice architect's salary.
(Where doctors and lawyers once were in vogue on television, architects seem to be becoming somewhat popular this season. The Invaders has Roy Thinnes as David Vincent, an architect who has apparently already made his pile, so that he can go gallivanting around the country-side looking for invaders from outer space!)
Anyhow, back to the roof-top. That's where Julie and David live--on the roof-top, that is, that's the "title-role star" of the series. Needing to economize as much as possible, the Willises moved into the attic of a San Francisco building and converted it into an apartment.
Unfortunately, this apartment lacks a few things, like, for instance, a window. However, it does have a flight of stairs leading to the roof. In order to see the world around them occasionally, the newlyweds troop up to the roof, where they can enjoy a remarkable view of San Francisco.
The apartment also has, in addition to a roof with a view, some wacky neighbors, played by Rich Little and Barbara Bostock. By and large, the series concerns itself with the little, every-day problems of a young couple trying to get along on a meager income, and trying to get along with their sometimes exasperating neighbors.
As we said, it's sure to bring back some memories for many viewers.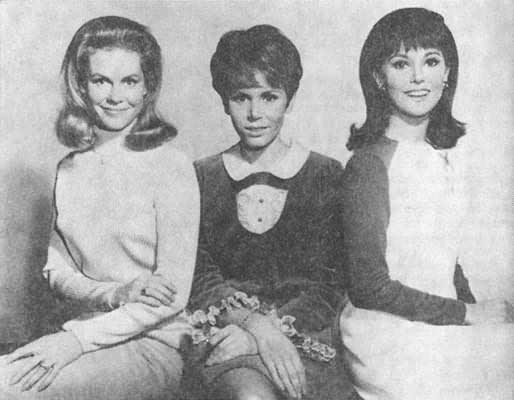 Judy Carne: Ambition and Ingenuity
British born Judy Carne decided on a career in the theatre before she was nine years old. Along the way to success, which included starring roles in two previous series--Fair Exchange and The Baileys Of Balboa--she had to back up her ambition with ingenuity.
Photo Caption: THURSDAY'S GIRLS: Elizabeth Montgomery (Bewitched), Judy Carne (Love on a Rooftop), Marlo Thomas (That Girl) brighten Thursday nights.
Thus it was that she once enrolled in a Paris cooking school just so she could eat. This occurred early in her career, when she found herself in the French capital hungry and without funds. She says she got the idea from the movie, "Sabrina," in which Audrey Hepburn attended a similar cooking school.
A native of Northampton, England (real name: Joyce Botterill), she was enrolled by her parents in dancing school when she was three. By the time she was ten years old, she was enrolled in a theatrical boarding school, where she was trained in theatrical and musical arts until she was 16.
Following her schooling, she appeared in a West End revue, "For Amusement Only," and in various musical shows. For a time she was a regular on the British version of tv's Juke Box Jury.
Stardom came in the musical, "Chrysanthemum," in which she had her first solo singing and dancing role. Her performance in another revue, "On The Brighter Side, led to her selection as Julie Andrews replacement in "The Boy Friend."
She arrived in the U. S. in 1961. In addition to her two previous regular series, she has had roles in several other shows and in the movie, "The Americanization Of Emily" (with Julie Andrews).
She was married until recently to Burt Reynolds, who starred in the Hawk video series, and now occupies a rambling hillside home with a variety of dogs and cats.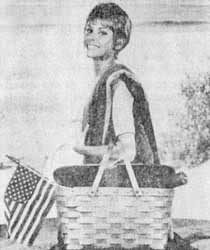 Photo Caption: The Americanization of Julie: British-born lass proudly carries the Stars and Stripes.
Peter Deuel: Bachelor Newly-wed
Peter Deuel plays a newly-wed in Love On A Roof-top and is a very eligible bachelor in real life.
The decision to become an actor was not an easy one for him. He had been exposed to medicine for as long as he could remember. His father, grandfather, great grandfather, two cousins and two great uncles had been medical men, and he had always thought he, too, would be a doctor.
He was born in the small town of Penfield, near Rochester, New York, and became involved in theatrical productions while attending St. Lawrence College. He invited his family to see him play the lead in "The Rose Tatto," and the following day his father advised him to go to New York and start studying drama.
Peter spent two years at the American Theater Wing in New York City, and then joined the Shakespeare Wrights Repertory Company as assistant stage manager and actor. Following this he toured with the Family Service Group, which produced public service shows for schools, service and PTA groups, and he gained invaluable experience in many types of roles.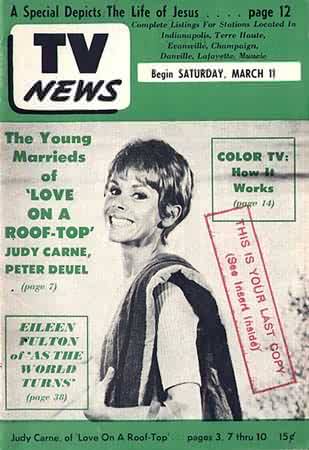 His first real break in show business came when he was signed for a role in the motion picture, "Wounded In Action," filmed in the Philippines. This led to a co-starring role in the national road company production of "Take Her, She's Mine," which starred Tom Ewell.
Deuel moved his base of operations to Hollywood and has since appeared in top roles in such tv shows as Combat!, 12 O'Clock High, The Fugitive, and Mickey, and has just completed a season in Gidget, in which he played Gidget s brother-in-law.
Peter enjoys discotheque-type dancing. He prefers natural, unaffected girls who enjoy going to a movie, a concert, a baseball game, and dancing. (Girls, take note!)
His hobbies include camping, fishing and touring in his four-wheeldrive land cruiser. He spends much of his free time exploring the back country of California's High Sierras. He's a car buff, and attends every sports car road race within reach.
---
Back to Articles List