KIM DARBY'S SECOND CHANCE FOR HAPPINESS

WHY HER NEW MARRIAGE COULDN'T WORK

Movie TV Secrets, October 1970

---

THE FIRST TIME SHE WAS YOUNG, HURT, AND INSECURE--BUT WHY WASN'T MARRIAGE ANY BETTER THE SECOND TIME AROUND?
Kim Darby, who reached spectacular stardom in True Grit after a long stretch in TV series and working toward film stardom seems to have a rosy future, but it does not have her dancing merrily in the limelight of publicity and praising all the people who made it possible. In regard to her True Grit director she tells anyone who wants to know that "Quote, I despise Henry Hathaway, unquote. I despise him." She had no love for her co-star John Wayne, either. In Norwood, again starring with Glen Campbell, she got along a bit better, but she still wasn't enthusiastic.
There's one thing Kim did seem brighter about--and that was her marriage to actor Jim Westmoreland. They were wed on February sixth after a whirlwind courtship. Before the marriage she said, "I am seeing a man now. When the doorbell rings I say, 'Oh, there he is,' and I run around the house like a kid." Westmoreland hasn't been too successful as an actor, with his real name or Rad Fulton, the one he used to use courtesy of agent Henry Willson. But he may not need to stay in the acting game much longer. Says Kim, "He has invented an eyelash applicator that really works. It's great, except I don't wear eyelashes."
She doesn't wear much other makeup either, which causes a lot of lonely young actresses who do to wonder--what do men see in Kim? Her costar in Generation, Pete Duel was so much in love with her he said, "I love her and I want her to set a marriage date." Obviously Kim didn't feel the same way.
Her first marriage (to Jim Stacy) wasn't very happy, one gathers from what Kim says and what she doesn't say. She did bear a child by him, however, and she's devoted to the child.
Though she looks bewildered and not at all capable of taking care of herself, she's extremely capable. She was born Derby Zerby in North Hollywood to performing parents. They were the Dancing Zerbies, but the act and the marriage broke up when Kim was two. Her mother remarried when Kim was 11, and her father married wife number four last year."She's only 17," says Kim smiling, but one suspects there is a bit of irony behind the smile. Kim was reared by her grandparents on her father's side. She couldn't make it in school plays. "I just didn't get the part, and you know? That hurt. So then I went to the Desilu Workshop."
Though many people in Hollywood are not exactly enraptured by Kim as a person, everyone agrees she's a real actress. Many say she's of the method-type, though she trained at Desilu, a continent away from the Actors Studio. But Kim says, "They dealt in the same kind of areas. Besides I guess everyone thinks I'm a Method actress because I'm serious. I spent many years being a schizo. All those television shows--I was serious about them. I got roles where I was either pregnant or going blind or dying. They would always ask me to do impossible things, like come on and get hysterical."
She was only 16 when she got her very first part. "I went for a reading for the TV series, Mr. Novak" she explains. "There were all these girls sitting on either side all the way down the hall, waiting to audition. My grandmother was with me. She held my hand because I was so scared. I read a monologue. I knew I did well. I put my head down and then I looked up and three of the seven men were crying. They told me right then that I had the part. It was one of nicest experiences I ever had."
In the first episode she played a blind girl who fell in love with her teacher, Mr. Novak. In just two years, Kim had her own apartment in town, was a regular on TV shows. She met Jim Stacy during an episode of Gunsmoke. Kim has man-appeal and Jim was enchanted with her. They were married and in seven months their baby daughter Heather arrived. But the marriage was in trouble.
One of her friends says, "It was a horrible experience for her. She's so sensitive and he didn't begin to understand her." Jim Stacy's friends say Kim gave him a bad time. At any rate Kim charged that Jim beat her. And he claimed she earned more than he was getting—which was $2,250 a week for being a regular on TV's Lancer. Jim was ordered to pay $400 a month child support while Kim waived alimony and actually had to pay him $2,000 for his interest in their Coldwater Canyon house.
"It's going to be different this time," said Kim about her new marriage to Jim Westmoreland. But she hadn't learned from her first marital venture, and she certainly didn't get too well acquainted with her new groom before the marriage. "It doesn't matter," said Kim. "I know it's right."
Of course, Hollywood was skeptical. Kim has never made a point of adjusting to other people. She isn't even satisfied with her performance in True Grit. Of John Wayne she said, "We had no rapport at all either in the scenes or out of them. He was Rooster and I was the little girl Mattie, and he didn't have any regard for me."
Reports from the set were that Kim drove Wayne right up the wall. He wanted to like her, to put her on a pedestal, but her method-type "thinking it through" manner got to him. He didn't understand her and he stayed as far away from her as he could--when they weren't acting.
Now Kim says, "I've mellowed about that quite a bit." But at the time she hated Hathaway with a driving passion and she didn't care who knew it. In Hollywood there were comments--all he'd done was bring a performance from her that made her an instant star. "It was--well, like we were all in our own worlds, see? It was Glen's first picture and I'd had a baby and hadn't worked for a year. It was a whole new role for John Wayne. He was playing a 75-year-old man."
People try to get a little praise about Wayne from her. Everyone else who has worked with him has had something good to say about him. "I'm nonverbalizing," she says. "I nonverbalized my dislike. What happened? Well, I got in his light a couple of times and stepped on his lines, and he told me. So I didn't do it any more."
She continued, "Hathaway yelled at me the first day. We were in a close-up and the tears welled up in my eyes. I ran to my dressing room and he came and apologized. I think he was so surprised he never yelled at me again. So when in doubt, cry. He was angry because he told me to follow a stage direction, but I couldn't feel it so I didn't do it. Hathaway throws things. He throws things all the time. He used to say all my lines after me too. It drove me up the wall. I finally had to say, 'Henry, I can hear you back there. You'll have to stop.'"
But she still thinks she could have done better. "I'd give anything to do it over again." She thinks a minute, "Maybe not."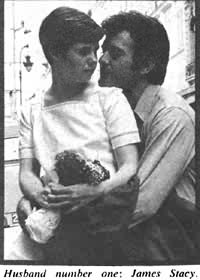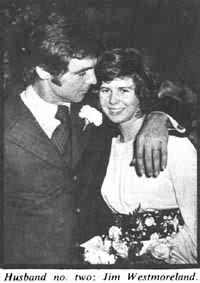 On the other hand, she enjoyed making Generation, which was how she happened to get together with Pete Duel. She also liked doing The Strawberry Statement with Bruce Davidson. She dated him as well. "But I haven't seen Pete in quite a while. He's back East visiting his parents." And he was still there when Kim married Westmoreland.
"Bruce is very dear to me. But I didn't want to marry either Peter or Bruce. I guess because I'm divorced I'm old-fashioned about marriage. I wanted desperately to be married again, but I wanted a meaningful relationship. I met them at the wrong time."
Obviously she felt that what she had with Jim Westmoreland was meaningful. But Hollywood regarded the marriage skeptically, as if they knew that Kim Darby was not yet ready for marriage the second time around. Even far longer courtships than hers have wound up in the divorce courts. One friend thought that her love for Jim and Jim's love for her were two infatuations, and living together, the magic spell was bound to be broken.
Kim Darby still has a lot of growing up to do before she marries again. Next time, she will hopefully rely a little more on her head and less on her heart. She and Jim are separated now, and there seems to be little hope of a reconciliation. They have both learned their lessons and perhaps both of them will choose more wisely in the future.

---
Back to Articles List