REMEMBERING PETE & BEN

UK magazine, 1973

---

The current series of Alias Smith and Jones doesn't include Pete Duel--but a lot of people haven't forgotten him, so we decided to print a memorial poster of Pete and Ben, together.
Pete Duel was born in New York just over 33 years ago. His father was a doctor and his mother a nurse and, being the eldest of three children and despite an early urge to join the Air Force, it wasn't unnatural for Pete to try and follow in his parents' footsteps and enter the medical profession. When he was old enough he joined the medical department of the St. Lawrence University in New York and stared the long trail of studies that eventually lead to qualification as a doctor. It was whilst he was at university that he started to appear in college drama group productions and it was these, together with a growing disillusionment in his studies, that made him change course and decide that acting was his vocation after all.
He joined a small New York drama school and it wasn't very long before he landed a small part in an off Broadway play. He then moved to Hollywood and found that the atmosphere of the place suited him. He began to get small parts in TV productions and it wasn't very long before influential TV producers began to notice the talented young actor and the offers of parts got better and better.
All this lead up to his being offered the role of "Hannibal Heyes" in Alias Smith and Jones, his most popular role.
Despite the recognition that the TV series brought him Pete still opted for the quiet life, preferring to devote his spare time to reading and his collection of miniature cars (many of which he made himself) than the rigours of the Hollywood gay life. [CJC's Note: In 1973, the term "gay life" meant a carefree, fun-loving lifestyle.]
Ben Murphy (Kid Curry alias Jones in the series) grew up a wanderer. He was born in a quiet little town in the State of Arkansas and when he was quiet small, his family move to Chicago. The travel-bug was still with him when he graduated from High School and he went to no fewer than five universities ranging from Illinois to Los Angeles.
A keen sportsman, Ben's interests in this field span nearly the whole spectrum: karate, tennis, swimming, skiing, and, of course, his favourite, horse riding. Apart from all that, he also keeps up his drama studies and also takes lessons in dancing and singing.
Ben has enormous energy reserves because, if there is any spare time left from his sporting activities, he also likes to take in as many plays and films as he possibly can and, believe it or not, he says that if he has any spare time, he likes to spend it in his luxurious Hollywood apartment (a stone's throw away from the studios where Alias Smith and Jones is made) and read.
His wanderlust is still there and in the last year he's travelled the length and breadth of the United States, Mexico, Canada and Europe as well.
Ben is, of course, still a bachelor, but with his kind of good looks and deep, penetrating blue eyes, it's hard to predict how long he'll stay unmarried!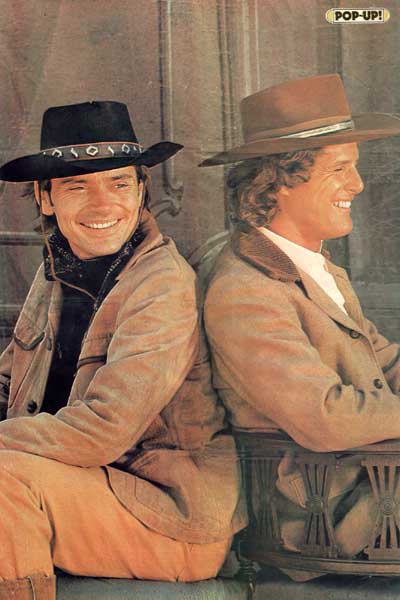 ---
Back to Pete Articles List or Ben Articles List