Excerpt from HOLLYWOOD'S SEXIEST BACHELORS
by M. Pinto

Movie Stars, February 1972

---

Leap Year means that men start thinking about marriage--if the right girl asks!
Happily for single girls, Hollywood has it share of heartthrobs this season. The eligible bachelors that we see in the movies and on the television screen this year might not be Clark Gables and Cary Grants, but in many ways they are their contemporary equals. We've picked out the eight young men most girls want to hear about, see and date, and we're going to give you all the pertinent facts on each of them.
Skipping over Burt Reynolds, Flip Wilson, Bobby Sherman, Chris Stone, David Cassidy, and Dennis Cole...
PETER DUEL Pete Duel, Hannibal Heyes on Alias Smith and Jones, hails from Rochester, New York, the son of a doctor. Surprisingly, Peter never considered being a doctor himself--surprisingly because he has six M.D.s in his family background (his father, grandfather, great-grandfather, two great uncles and a second cousin).
Show business seemed to be in the three Deuel (the original spelling) children's blood. Peter's younger brother, Geoffrey, is an actor, and his sister Pamela is a professional singer.
Peter attended St. Lawrence University and the American Theater Wing in New York City. Since being in Hollywood, he has appeared in guest roles on such shows as Combat, The Fugitive, The Virginian, The Name Of The Game, Marcus Welby, M.D. and ABC's Movie Of The Week.
Before Alias Smith and Jones, Pete has appeared on two series--as the brother-in-law on Gidget and as the newlywedded husband in Love On A Rooftop.
Pete is a bachelor who likes to keep his private life as private as possible. He's nature-oriented, loves camping and is hip to health foods. To get along with Pete, a girl would have to be interested in the outdoors and nature above all.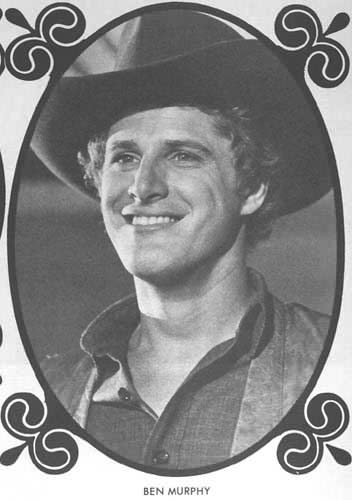 BEN MURPHY Alias Smith and Jones has brought female TV viewers not just one gorgeous man, but two! Ben Murphy, Kid Curry on the show, lives simply by himself, but there's always a chance some girl could convince him that two can live as cheaply as one.
Ben has attended eight colleges, studying international relations, theater arts and physical education. He believes a sound body reinforces a sound mind, and exercises a great deal, skiing, horseback riding, swimming and playing tennis.
The blue-eyed blond is thrilled with his sudden success on television. Prior to Alias Smith and Jones, Ben co-starred on The Name Of The Game as young reporter Joe Sample. He appeared briefly in The Graduate, had a featured part in the Lucille Ball-Henry Fonda picture Yours, Mine and Ours, and did several TV guest shots.
Of his newfound success, Ben says, "It's wild, and I've never been happier." But wouldn't he be happier with a young lady to share things with?
---
Back to Pete Articles List or Ben Articles List