16 SPEC TUNES IN ON EIGHT TV STARS!
SPEC 16 Magazine, May 1971

---

PETE DUEL
Pete Duel is the "Smith" half of ABC's new hour-long western Alias Smith And Jones. Pete was born in Rochester, New York, on February 24. As a child, he dreamed of becoming an airplane pilot--but when he enrolled at St. Lawrence University in upstate New York, he discovered he liked acting. Pete left for New York City to study drama. After much studying and touring in national road companies of Broadway plays, Pete decided to move to California, where he's been ever since.
Pete is six feel tall, weighs 155 pounds and has light brown hair and brown eyes. He's single and lives in a small apartment in West Hollywood. Pete loves to read; especially political journals--and even more--good TV or film scripts!
---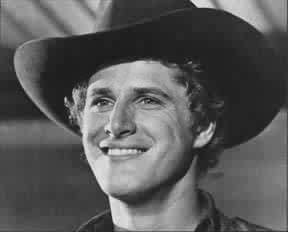 BEN MURPHY
The "Jones" in Alias Smith And Jones is Ben Murphy, who had fans flipping when he was a regular on NBC's The Name Of The Game.
Born on March 6, in Jonesboro, Arkansas, Ben bears an uncanny resemblance to Paul Newman! Ben is five, feet and eleven inches tall, weighs 170 pounds and has blond hair and blue eyes. Ben originally wanted a career in baseball, but gave that up when he decided it wasn't creative enough for him. Ben enrolled in five universities before getting his degree in political science from the University of Illinois. He then went to California and received another degree in drama from the Pasadena Playhouse.
Bachelor Ben lives in an apartment in Hollywood. In his free time, he practices karate, reads novels and classic literature and goes to movies and plays.
---
Back to Pete Articles List or Ben Articles List