SPOTLIGHT ON: PETER DUEL & BEN MURPHY
Tiger Beat, May 1971

---

If you could use only one adjective to describe Pete Duel, you'd most like say he's a remarkable guy! In this generation of driving flashy cars and acting "way out", Pete claims he's happiest when he can jump in his big camper and travel cross-country to explore the wilderness. "Nothing beats the splendor of nature" is his belief!
Pete's background is quite remarkable too in that he stems from a long line of doctors--six to be exact! But ever since Pete was in grade school he knew that medicine was not the profession for him. Instead, he wanted to pursue a theatrical career and began working towards that end in college. He attended St. Lawrence University and then in two years decided to enroll in New York's American Theatre Wing.
After several years of studying there he went on to the Shakespeare Wrights Repertory Company as assistant stage manager and performer, and then toured with the Family Service Group who staged productions for schools, PTA groups and service clubs.
Meanwhile, Pete acquired much experience which led to his first major appearance in "Wounded in Action" filmed on location in the Philippines. After this he costarred in "Take Her, She's Mine," the national road company production starring Tom Ewell.
Pete loved the excitement of touring, but once back in Los Angeles job offers started pouring in like rain! He was the star of the TV series "Love on a Rooftop" with Judy Carne, and made numerous guest appearances in "Name of the Game", "Marcus Welby, M.D.", and "The Bold Ones" to name a few. Additional appearances also included to ABC "Movies of the Week" and three "World Premiere" shows.
Pete is presently starring in "Alias Smith and Jones" and considers his role as Hannibal Heyes one of the most interesting he's ever portrayed. Furthermore, he believes the cast couldn't be better!
You can write to both Peter Duel and Ben Murphy c/o ABC-TV, 4151 Prospect Avenue, Hollywood, California 90027. For special attention, be sure to put a Tiger Beat "Open Me First" sticker on the outside of your envelope! You'll find lots of stickers on Page 46!
---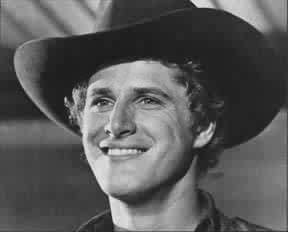 What would you say about a guy who attended eight colleges, loves to watch the sun set, and eventually hopes to write a book about his travels? Would you think he sounds interesting? Then you're right!

Ben Murphy was born March 6 in Jonesboro, Arkansas to Nadine and Patrick Murphy and grew up in Hinsdale, Illinois, a suburb of Chicago.

His teenage years were restless and the urge to travel took a strong hold. Upon graduation from Precopius Greek Orthodox School in Hinsdale Ben enrolled at Loras College in Dubuque, Iowa. He studied there for a year and then transferred to Loyola University in New Orleans, and later the the University of the Americas in Mexico City.

At this point most students might think it's time to really buckle down and decide upon a school...but not Ben Murphy! Despite all this switching around, Ben kept his credits straight and received a Bachelor of Arts degrees in international relations from the University of Illinois. Afterwards he returned for a year of graduate study at Chicago's Loyola University and then back to the University of the Americas.

Ben decided that the wanted to devote more time to studying dramatics so he traveled west to California and became a member of the Pasadena Playhouse. He completed a two-year course there earning his second B.A., this one in theatre arts. And since that time Ben did graduate work in theatre arts at the University of Southern California.

When he was attending San Fernando State, Ben got his first co-starring role as a reporter on "Name of the Game." He also was featured in the motion pictures "The Graduate," "Yours, Mine, and Ours," and "The Thousand Plane Raid." Then TV offers popped up and Ben did episodes of "It Takes A Thief," "The Outsider" and "The Virginian."

Ben presently makes his home in the San Fernando Valley near the Universal City Studios, and during free moments he likes to decorate his place with all sorts of wild plastic objects! He enjoys anything and everything athletic and his favorite sports include tennis, horseback riding, skiing, and swimming.
---
Back to Pete Articles List or Ben Articles List