"PETER DUEL HAS MY SYMPATHY"

by Phyllis Welden

Silver Screen, May 1970

---

Kim Darby's groom talks about their surprise marriage and the man she left behind...

Kim Darby not only surprised the world when she suddenly married James Westmoreland--she also managed to shock those closest to her. It was certainly a surprise to at least one Darby suitor who thought he was going to be Kim's next, and there is evidence that the whole thing was even an astonishment to Kim, herself. For in the weeks before her wedding, so many stories had made the rounds. There were rumors that she was in love with her latest leading man, Bruce Davison [sic, Davidson], and reports ran riot that she and ex-husband Jim Stacy were about to reconcile. But the biggest, most important reports--stories which Kim herself seemed to support--were that she was in love with Peter Duel. In fact when our SILVER SCREEN reporter decided to investigate these rumors last month, she got the definite impression from Peter that he and Kim did intend to marry. And Kim seemed to think so, too. The result was "In Love At Last", in our last issue.
Then, on February 6, to the absolute amazement of everybody--maybe even Kim and the groom as well--she married actor-businessman James Westmoreland--a man she'd known for only three weeks!
"Stacy doesn't like it much," Westmoreland observed, "and I don't blame him. I don't know Peter Duel, but he's out of luck." Then Jim beamed with joy, "He has my sympathy," he added.
Apparently, Pete had Kim's sympathy, too. For she called him, a few days before the wedding to tell him what to expect, "I just want you to know before you read it in the papers," she reportedly told him. "I'm getting married."
And Peter, said friends, was very upset. Apparently, he did feel he had a future with Kim up until now. And then suddenly, there was Westmoreland--and a very sudden wedding.
The marriage took place in late afternoon at the home of a friend, Samantha Carp, at Malibu.
The Reverend Walter Gerber, a Presbyterian minister whom the couple had met only the day before, performed the ceremony before a small, select group of the bride's and groom's friends.
Kim's matron of honor was Vicky Anderson, wife of Michael Anderson, Jr., who had been responsible for Kim's meeting with Jim. Businessman Michael Landau was the best man.
During the double-ring rites, the bride and groom exchanged plain, gold bands.
"I've only been married once before, and that was for just a short while," Westmoreland said beamingly. "I've been a bachelor for seven years. But the minute I met Kim, I fell in love. We are going to be in love forever!"
Kim, who had said, while dating Peter Duel, that she believed in marriage and wanted very much to marry again, beamed too.
Then the couple slipped away for "two or three days but not for a real honeymoon."
"We have Heather to think of," Westmoreland explained. Heather is Kim's daughter by first husband Jim Stacy. They'd been separated a long time, but at the time she married Westmoreland, she'd been divorced for only a few days.
Before her meeting with Westmoreland, Kim had formed a habit of taking her on-camera love scenes perhaps a bit too seriously. Three times out of four, she seemed to become infatuated with her leading man.
When she played opposite Jim Stacy in a two-part "Gunsmoke" episode, she not only fell in love with him, she married him and bore his daughter.
The marriage was passionate, unhappy and brief. But it produced one happy result--Heather.
When Kim played opposite Peter Duel in "Generation", she gave every evidence of falling in love with him. And Peter fell so deeply in love with her that he said, "As soon as her divorce is final, I want to marry her. I hope to marry her."

He had good reason to hope, for Kim spoke lovingly of Peter, and spent as much time with him as she could.
In fact, she spent her spare time with Peter while she and Glen [Campbell] were playing in "Norwood". But when she went to northern California to play opposite Bruce Davison in "The Strawberry Statement," her affection seemed to take a turn.
She was rumored to be infatuated with her new leading man, who appeared to be equally mad for her.
Meanwhile, she spoke nicely of Stacy, although she said she didn't think they'd reconcile. Stacy, however, told a columnist that reconciliation was a possibility, and Kim did date him on at least one recent occasion, when they attended a screening of "Anne Of The Thousand Days" together.
But a week or two after this, she met Jim Westmoreland--an actor with whom she'd never played an on-camera love scene! And he made her forget every other man in her life.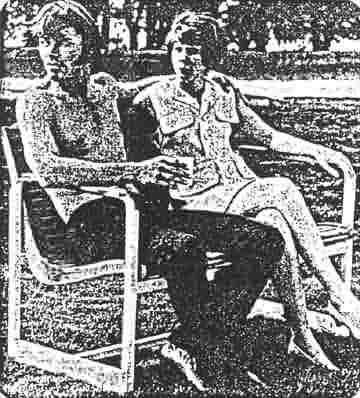 Photo Caption: Kim Darby and Peter Duel, the man she apparently intended to marry until James Westmoreland came along. Peter, it was reported, was very upset when he found out she was marrying another.
James Westmoreland, who's 10 or 15 years older than Kim, has played in dozens and dozens of pictures and television shows. But he's probably best known to the public for his continuing role in the ABC television series, "The Monroes", which lasted only one season. Michael Anderson, Jr. also starred in the series.
"I didn't think I owed the show anything," Westmoreland said a few days before his wedding "But I do.
"If I hadn't been in The Monroes, I might never have met Michael Anderson. And if I hadn't met him, I might not have met Kim.
"Kim and I met a Michael's house at dinner. Our introduction wasn't planned. It just happened.
"Michael and I had been playing golf, and he invited me home for dinner. Kim happened to stop by to see Vicky and stayed for dinner too."
"I don't know exactly when we knew we were in love. From the moment we met, I think."
And so, within less than a month, they were married, despite the fact that Kim was not at her physical peak.
A week before the wedding, she was in the hospital "for tests," the nature of which have never been disclosed.
On the Monday night before her Friday marriage, she attended the Golden Globes Awards party at the Cocoanut Grove with Jim, who dumbfounded fellow guests by introducing her as his fiancee. This was the first time Hollywoodites had heard of the engagement.
Then Kim went back to the hospital coming out only two days before her marriage.
"She's fine," Westmoreland reported, revealing nothing more. However, when the bride and bridegroom-elect went to the Santa Monica Courthouse on Thursday to get their license, an observer said Kim looked ill, and that Westmoreland helped her with great tenderness up and down steps and through the corridors.
It was only on the day after the wedding that observers began raising doubts as to the future of this wedding. They remembered Kim's romantic history, and her short acquaintance with her new husband.
However, they weren't taking everything into account.
True, Kim has allegedly been in and out of love fairly often these days. But when she met her first important love, her former husband Jim Stacy, she was a remarkably naive and inexperienced girl, ripe to make a disastrous mistake.
A shy and socially immature girl, she'd been an actress from childhood. While her schoolmates had rather shunned her, standing in awe of a child with so much talent, her father and grandmother had pushed her toward the adult world faster perhaps than she'd wished to go.
In self-defense, Kim would withdraw into silence, and was still doing the same thing only a few months ago.
"Sometimes," she said, "I'll go for days without speaking."
She went absolutely crazy for Jim, who loved her and married her.
Their marriage was made difficult--downright impossible as it happened--in part perhaps by Kim's immaturity, and possibly by Jim's--and in part because of Kim's ill health during and after pregnancy.
Rumors circulated that she was a remote and temperamental girl. What the rumor-mongers didn't know was that she was also a physically ill girl.
For example, while she was making "True Grit" stories flew to the effect that she was driving not only the director, but even John Wayne, crazy.
Not true.
"When we began the picture," Kim explained later, "my baby was only a few weeks old. I'd been very sick."
"My legs and feet were still swollen and the boots I had to wear were too tight. One day I felt ill, my feet hurt, and everybody was yelling, so I sat down and cried.
"That started all the stories."
Her physical vulnerability made Kim emotionally vulnerable. And so that made it easy for her to mistake the sense of security Duel and Davison gave her with love.
Then she met Westmoreland.
Jim Westmoreland didn't begin his adult life as an actor--and may not end his life as one. For, with rare good sense, he's put another iron in the fire. And it promises to be a profitable one.
Approximately a year ago, he began to develop an applicator for false eyelashes. With the device perfected, Jim plans to manufacture it himself.
For the past several months, he's been devoting most of his time to the project which an actress, who knows about such things, predicts will make him very rich.
A native of Detroit, Jim is a natural born athlete who first thought of becoming a professional baseball player. He even played Triple A ball in Canada and Michigan for a time.
"But I wanted to see more of the country," Jim recounts, "so I went to New Orleans. I stayed there about three months, went to Florida and then went to New York where I ran out of money."
In New York, he tried his hand at various tasks, including modeling, before he went on to California.
Here the notion of acting struck him.
He studied with Alice Young and did construction work.
As an embryo actor, Westmoreland chose the pseudonym Rad Fulton.
Warner Brothers gave Rad a contract, dropped him and then hired him to do six or seven pictures. His fortunes as an actor went up and down.
He worked in such big pictures as "The Last Sunset" with Rock Hudson and Kirk Douglas, and made pictures in Europe, including "No, My Darling Daughter," a well-received British film.
Life wasn't bad, but he got tired of being Rad Fulton.
"I wanted to be myself," Jim says, "so I went back to Jim Westmoreland, and started over."
He worked, but producers didn't beat a path to his door.
And he got married--and stayed that way for a very brief time. She was a girl from Tennessee, Allison Kimball.
"She wasn't an actress, so a career had nothing to do with it. It just didn't work out."
Though they've know each other only briefly, evidence suggests that Jim and Kim may be an ideal couple whose love will confound the doom-sayers.
His maturity balances her naivety. He understands showbusiness because he's been an actor, so he'll be able to accept the demands of her career.
On the other hand, unlike Kim's former husband and later romances, Jim isn't consumed by the acting itch. He enjoys acting when the role and the time are right. But he can survive without the spotlight.
Then, finally, both he and Kim love Heather. Kim, of course, adores her little daughter, while Jim, who has a natural fondness for all children, can't resist the beautiful little girl.
"I've never had a child," Jim says with wonderment at this present good fortune. "I was married, but I've never had a child."
Then he looks at Heather, and he knows he's got one now. And from the way he looks at Kim, there have got to be more. He looks so in love, so happy. No wonder he says "Peter Duel has my sympathy." To Jim Westmoreland, any man who isn't married to Kim Darby has his sympathy.

---
Back to Articles List