PETER DEUEL AND HIS LITTLE LOVE NEST

by Mary Ann Bailey

TeleGuia, March 1968

---

Heaven's not everything? With the beauty of the sea, like the depths - the soft sand at his feet and a beautiful blonde to lean on - what more could you ask?
Some have their 'Shangri la' - and others their Bali-Hai, but for Peter Deuel and Indus Arthur, it's a jeep and their portable oven, that they take with them to the most distant and beautiful points of California.
Peter, co-star of 'Little Love Nest' (Love on a Rooftop) has always been a vagabond in his heart. He met Indus on a stroll with a group of actors and actresses. She worked with Sidney Poitier and Ann Bancroft in 'The Slender Thread' and Peter had a big success in the part of the brother-in-law in 'Gidget' in the ABC-TV series. It was then it was decided to give him the principal role with Judy Carne in Love on a Rooftop, a series about a young married couple combating the problems of a happy marriage.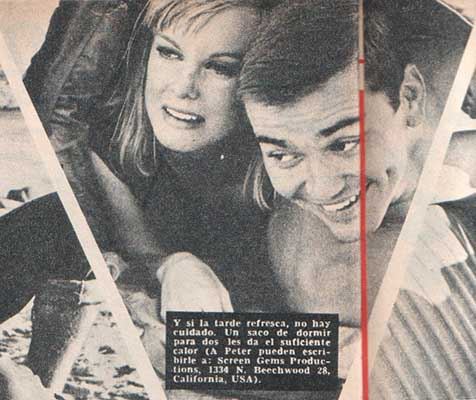 Single, born in Rochester, New York on 24th February 1940 (yes... he's 28 years old) the son of three generations of doctors. Since he was very small, he felt torn by two forces; his special vocation for acting and the medical heritage of his family. But drama won, and after 2 years in St. Lawrence College, he gave it all up to graduate from the American Theatre Wing of New York.
Photo Caption: There's no need to worry if the evening gets too cool. A sleeping bag for two is warm enough. You can write to Peter care of Screen gems etc...
Finishing his studies there, he went on to the Shakespeare Repertory Company as an actor and assistant director. Later, he took part in the Family Service Group that put on shows for various colleges and institutions.
He moved on to professional cinema in a small role in a war film shot in the Philippines. Then a fine performance, sharing the lead role with Tom Ewell in the theatrical production of 'Take Her, She's Mine', a comedy that toured several states.
FROM GIDGET TO STARDOM
At last, television called. He made guest appearances in 'Channing', 'Combat', 'The Mickey Rooney Show', 'Air Command' (12 O Clock High), Gomer Pyle and 'The Fugitive'.
His part as Gidget's the brother-in-law in the popular show of that name, served as a trampoline to jump to a higher level...
There, his star quality became apparent. All he needed was an suitable vehicle.... like the aforementioned 'Love on a Rooftop'. The Producer, Harry Ackerman, decided that the only actor right for the role of David in this romantic comedy, would be Peter.
- When I found out I'd been given the role, I felt like I was walking on air - Peter confessed with simplicity - After two years in Hollywood with two good roles, the thought of becoming the star of my own series hit me and I loved it.
Peter has an ambition for the future; to find the right girl that, like Judy Carne on the small-screen, will be his companion for the rest of his life. He wants a happy marriage and lots of kids. Will Indus be the person he's looking for? In any case, while he waits for her to arrive, Peter spends happy, fun moments with a beautiful starlet he invited to spend a wonderful day at the beach.
*The star of the series 'Love on a Rooftop' invited his friend , the actress Indus Arthur to spend a wonderful day of sun, sand and sea.
*The boy is single, he wants to marry and have lots of kids.
By Mary Ann Bailey. Photos: Andre Rousseau.
Photo Caption: Peter's happy in his jeep in the company of the lovely Indus Arthur. For the actor, his vehicle is like a travelling home, capable of taking him to this same sea shore.
---
Back to Articles List