TV WESTERN STAR FOUND SHOT DEAD
unknown newspaper, December 31, 1971
---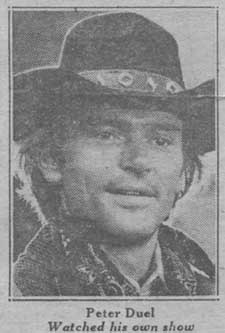 Hollywood, Dec. 31 (Special)--TV star Peter Duel, 31, who plays the role of a reformed outlaw on the "Alias Smith and Jones" Western series, was found shot to death early today beneath a Christmas tree in his Hollywood hills home.

The dark-haired actor, a native of Rochester, N.Y., where his family lives, was found sprawled in the living room floor with a bullet wound in his right temple.

Detectives said they found a 38-caliber revolver near Duel's body in the modest, two-bedroom home where he lived alone. The gun had been fired twice, police said.

Called Possible Suicide

Investigators originally called the death a possible homicide. After questioning a woman friend of the actor, however, they listed the shooting as a probable suicide or possibly accidental.

"We have not made an arrest nor do we anticipate making one," homicide investigators said.

Neighbors said that the young bachelor often opened his home to aspiring young /actors who frequently streamed in and out of the house.

Hollywood police learned of the shooting through an anonymous telephone call.

When they arrived at the home, detectives said, they were met by Diane Ray, 29. She told police the actor had invited her to his home last night to watch his series on television. He played opposite Ben Murphy in the ABC series, which is in its second season on television.

Miss Ray, an attractive brunette secretary, and aspiring actress, said she and Duel watched he Los Angeles Lakers and the Seattle Sonics basketball telecast after viewing a segment of his series.

About 1:25 a.m., she said, Duel walked into the bedroom with a drink in his hand. Miss Ray said that Duel, who has been arrested several times on drunk charges, appeared to be remorseful about his drinking, police said.

Duel reportedly removed a wrapped package, believed to contain a gun, from a dresser drawer and left the bedroom saying: "I'll see you later."

Slumped Under Tree

Several minutes later, Miss Ray said she heard a shot and ran into the living room. Duel was slumped beneath a decorated Christmas tree. One bullet had been fired into Duel's right temple. according to the coroner's office.

The other shot from the revolver, according to a preliminary police investigation, reportedly was fired by the actor a couple of weeks ago when he was notified by telegram that he had failed to win election to in executive post in the Screen Actors' Guild.

In disgust or in jest, Duel supposedly fired a shot at it.

The actor's father, Ellsworth, is a physician, and the actor's mother, the former Lillian Ellstrom was a nurse. The actor's grandfather, great grandfather, two uncles and a cousin were also doctors. The family has retained the original spelling of their name, Deuel. But the young actor shortened it to Duel after coming to Hollywood nearly a decade ago, after attending the American Theater Wing in New York City.

He has appeared in a score of television shows including Combat, The Fugitive, The Virginian, The Young Lawyers, and also appeared in the series Love on a Rooftop.

Planned to Curb Drinking

He also appeared in several TV episodes of Gidget and appeared on the ABC Movie of the Week.

In June, Duel told a judge in Los Angeles Superior Court that he planned to stop drinking.

At that time Duel was sentenced for his second drunken driving conviction in four years. He was given a 180-day suspended sentence, fined $1,000 and placed on probation for two years, on condition that he abstain from alcohol. Duel also lost his driver's license. In a letter to the judge before sentence, Duel wrote:

"I'm not drinking any more. I am searching hard for a meaningful life outside of my work and I feel I can prove to the court that I will not be involved any further with the law particularly with regard to drinking and driving."
---
Back to Articles List